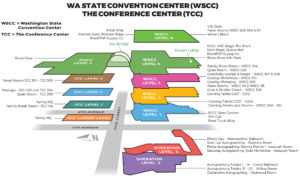 I don't know about you, but I'm just about ready for the weekend. Let's boogie.
For the life of me, I can't figure out how Reed!Pop could buy Emerald City Comicon (and, not coincidentally, the services of showrunner team Jim & Andrea Demonakos) and still have their two opposite-coast major comics shows (that would be EmCity and New York Comic Con) be polar opposites when it comes to indie- and webcomics. EmCity, in case you didn't know, has essentially eclipsed San Diego as the big attendance show that webcomics flocks to, and NYCC is inhospitable to the very same crowd. Most perplexing.

But, since EmCity is next week and all, how about a rundown of who you'll find there? I love the maps that people create to show where they'll be (although they're a bit rarer this year than past), but even without the maps we can give you a list of who's gonna be there (in no particular order, and we quote):

Pat Race and the Alaska Robotics crew (booth 204, including Marian Call, whose new album dropped today and is awesome and she'll have shows concurrent with EmCity); Sohmer, Unca Lar, and the Blind Ferret folks (booth 110); (Brad Guigar (booth R5); Danielle Corsetto and Randy Milholland (booth 1413); Jennie Breeden (booth 1322); all of the miscellaneous Explosm weirdos (booth 828); and Kaja & Phil Foglio (booth 118).

There's a hefty delegation from Helioscope (formerly Periscope) (booths H1 through 16 inclusive, to be occupied by Aaron McConnell, Aud Koch, Ben Dewey, Brian Wolf, Bridget Underwood, Cat Farris, Dan Schkade, Lucy Bellwood, Lukas Ketner, Ron Chan, Ron Randall, Roxy Polk, Steve Lieber, Tadd Galusha, Terry Blas, and Zach Fischer).

Want more? How about Spike Trotman, Blue Delliquanti, Takneka Stotts, and Amanda Lafrenais (together at booth 212); Jake Richmond (booth X4); Molly "Jakface" Nemecek (booth Q3); the ubiquitous Jim Zub (booth V3); Kate Leth (booth J6); Kazu Kibuishi (booth K1); Lars Brown and David McGuire (booth Z1); Ngozi Ukazu and Tessa Stone (booth M9); and Pascalle Lepas (booth P16).

We're still not done (even allowing for the fact that I probably missed a bunch of people), consider that you'll also find Dave Kellett (booth 1116); Der-shing Helmer (booth K6); Matt Inman (booth 410); Tony Breed and Lonnie Mann (booth M10); and Yuko Ota and Ananth Hirsh (booth M10).

Finally, you gots the creatorpaloozas that will be the :01 Books (booth 1602) and TopatoCo (booth 1102) contingents. The former will include Box Brown, Gene Luen Yang, Matthew Loux, MK Reed, Pénélope Bagieu; the latter is bringing Jeph Jacques, Sam Logan, David Malki !, Dylan Meconis, Erika Moen, Alina Pete, Tyson Hesse, Becky Dreistadt, Matt Lubchansky, Abby Howard, Catie Donnelly, and Brandon Bird.

Emerald City Comicon runs from Thursday 2 March to Sunday 5 March 2017 in Seattle.

For those that can't make it to the upper-left corner of the country, may I suggest curling up with a good podcast? Owne Dunne may be back to hiatusland with You Damn Kid, but that doesn't mean that he's idle. Dunne's always done a stack of projects simultaneously, one of which was the webcomic parody of old-fashioned, hard-boiled cops, Banion.

Of late, Banion has been audio-enhanced for your listening pleasure, and is now downloadable from Google Play and iTunes. Dunne's at his best when he takes a classic form (the childhood memoir, the Dragnet style cop, the British prestige drama) and knocks it 47.3° to the side, which pretty much describes Banion, The Podcast
---
Spam of the day:
A Better Way to Inflate Everything
Nnnnooope. Not going near that one.