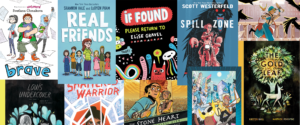 In this case, their announcement of Kids and YA Guests for 2017 (held, as always, in/around the Toronto Reference Library, this year on 13 & 14 May), which includes some huge names: Isabelle Arsenault and Fanny Britt! Svetlana Chmakova! Elise Gravel! Matt Forsythe! Jarrett Williams! And also a huge crew of creators coming with :01 Books, including Scott Westerfeld, Shannon Hale, LeUyen Pham, Faith Erin Hicks, Molly Ostertag, Matthew Loux, Mike Cavallaro, Mike Holmes, George O'Connor, Farel Dalrymple, Box Brown, Penelope Bagieu, and Alison Wilgus, half of whom will have debuts. It's gonna be a great time in the Big Smoke¹.
---
Spam of the day:
Monthly curated natural treats and toys for your pup
My dog is presently barking his head off at a pile of squirrel poop. Got that in your curation?
_______________
¹ They call Toronto that, right? I mean, I knew about Cabbagetown being a nickname, but I'm pretty sure I saw Big Smoke somewhere.