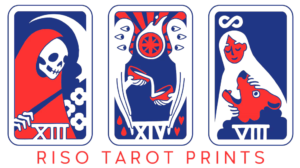 Know who will always make my day better? Yuko¹ & Ananth², that's who. Johnny Wander may focus on stories other than autobio for now, but everything those crazy kids touch is great. And last night, they announced a project in keeping with the Kickstarter Make 100 manifesto that I must point you towards.
Presenting the Tarot Riso Printset, a collection of three tarot deck images (if I make them out correctly, Strength, Death, and Temperance) by Ota, done via risograph for that old-school look combined with modern digital convenience and cost efficiency.
Ota's been creating tarot images in her jewelry designs for a while, and those who want a nice big version of her graphic design (bigger is better than the pendant sizes because you can enjoy it at length without staring at somebody's chest like a creeper) now have the perfect vehicle to satisfy their itch for pretty things.
As of this writing, 35 of the 100 limited rewards have been claimed. Designs are done, paper's bought, risograph time arranged. Campaign ends in ten days and the check clears, the spend an afternoon making prints and signing, then the shipping can begin. Quick, no fuss, and backers get an extremely limited-edition set of art prints that will never exist outside this edition of 100.
Oh, and ten minutes ago I got a package from TopatoCo — my copies of Girls With Slingshots, books 9 and 10. If you'll excuse me, I have some reading to do. Try to not let the world burn down while I'm busy.
---
Spam of the day:
gary.tyrrell, Interested in low in come housing?
Am I? Who isn't? We'll all be living there when the economy tanks!
______________
¹ Ota.
² Hirsh.