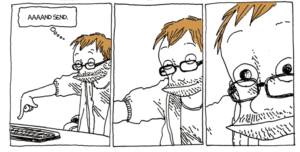 So some things have happened since Friday afternoon; for example, Christopher Hastings wrapped up The Adventures of Dr McNinja without the customary end-of-chapter Final Thoughts. I suspect that this is because there is no Dr McNinja any longer, only Dr Patrick Goodrich, and so nobody to give said Final Thoughts. Not to worry, Hastings's wife, Carly Monardo, brought a Final Thoughts cake to the wrap party Friday night, and somebody else brought Dr McNinja cookies! They were delicious.
In other news, a slew of awards for youth literature were announced this morning in conjunction with the big ALA convention going on, and surprising absolutely nobody, March, Book 3 is going to have to find some more room on the cover for more stickers indicating more laurels. Unless I missed anything, March is now the recipient of the Excellence In Nonfiction for Young Adults award, the Coretta Scott King Book Awards Author winner, and the Sibert Medal¹.

Not to be left out, the Alex Awards recognized Ryan North's Romeo And/Or Juliet, and Vera Brosgol took at friggin' Caldecott Honor (again, basically the runner-up to the actual winner, but it's only the most prestigious award for picture books) for Leave Me Alone! Webcomickers are in some seriously good company this awards season. Can't wait to see what the NCS, Eisner, Harvey, and Ignatz awards bring.

How about a moment for just a terrific comic? No huge event, no big conclusion, just an example of excellence on an ordinary day. Boulet is kind of the autobio equivalent of Stan Sakai; the work he turns out is uniformly excellent, comic after comic, to the point that you can lose sight of what an accomplished creator he is. Just as writers on comic books must get tired of writing every month Sakai was amazing, again, do you really need me to mention it, any random update at Bouletcorp is going to be beautiful, funny, insightful, or a combination of all three.

Thus, last Thursday's update, which is now making the rounds in English. While we haven't all dodged that particular bullet, I think we can all appreciate just how horrible it might have been; I'm not even on Facebook and I'm sweating over here. Anyway, on a day marked by excellence all around, a tip of the hat to Boulet for making art that grabbed us all by the panic gland.
---
Spam of the day:
URGENT Message Regarding Your Outstanding Debt
Oh, no! You mean the US$78 I've got on my credit cards this month? I'd best sign my house over to you to manage my debt immediately!
______________
¹ As a side note, the Sibert Honor books — basically, the runners-up — mostly dealt with themes of governmental oppression in some form or another.
You had one about the White Rose youth movement against Hitler, one about surviving Nagasaki, one about being Japanese Americans being interned during World War II, and one about … um, giant squid. Squid are cool.