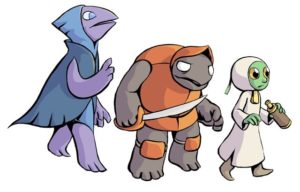 New book to come, books for the past year getting recognition. It's a book kind of day.
While I may be slightly wondering what I've got to do to launch big announcements, instead of it going to CBR and Comics Alliance (or to niche, non-comics outlets like Entertainment Weekly and the LA Times), I understand it's a matter of reach. I mean, well-known webcomicker that I've covered extensively gets to launch a new book with a major publisher of graphic novels, you want to get the eyeballs on that. I'm not jealous, I'm not mad¹, I'm just happy I can talk about something I first saw a loooong time ago.

Evan Dahm has a new book on the way from :01 Books, with the announcement by Oliver Sava at The AV Club. Island Book (for that is its name) is not part of the existing Overside stories, and it's not an illustrated edition of a classic American story². It's a standalone story, about a young girl (in the Dahmian sense, which is to say that the people of this story are not remotely human) named Sola who is ostracized by her island-living, seafaring people because when she was little, a monster on a rampage didn't kill her.

It seemed to like her.

And now her fisher-folk think that she's responsible.

It may be that you don't get quite that much from the preview that :01 provided, but here's where I have a secret to share — I've seen the first 25 or so pages of Island Book; it didn't have a title then, and Dahm wasn't sure if he was going to develop the story to full length, and in the long run from first idea to publication (it's not due until winter of 2019³) it will inevitably change. Heck, what I saw amounts to not even the opening scene to establish the need for Sola to head out on adventures on the great wide ocean.

But what I saw was full of Dahm's trademark ability to make us care about characters from the get-go, to fill in just enough detail that it's clear that more (much more!) will be revealed, and to reassure us that the journey will be worth it. Island Story will likely be 250 – 300 pages, meaning it's a relatively short tale for Dahm. The most exciting thing is that over the next three years he'll only get better as a writer and artist, and the book will be all the more compelling for it.

And if you want more to read for the next three years, can I recommend you check out NPR's annual recommendations (specifically, the comics and graphic novels section)? You'll find webcomics and webcomickers like Kate Leth (on Hellcat), Kate Beaton (King Baby), Jason Shiga (Demon), Lisa Hanawalt (Hot Dog Taste Test), and the ubiquitous Raina Telgemeier (Ghosts).
---
Spam of the day:
F?nd the Best Walk-In Bathtub Deals near your city
I didn't realize that walk-in bathtub deals were so common that there would be a price disparity. Learn something new every day.
______________
¹ I am glad that Ryan Estrada gives me his exclusives. Thanks, Ryan!
² Speaking of which, get on that Moby-Dick Kickstarter already. It's five days from conclusion and hasn't hit goal yet.
³ Which means you've got time to read Rice Boy and Order Of Tales, and I'll give a 50/50 shot that Vattu is concluded by then.