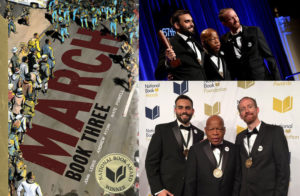 I may have opinions (oh baby I got opinions) on which previous works of comicdom nominated for the National Book Award should have received the honor without doing so.
But it hard to hold the contrary opinion that the March trilogy — the story of the civil rights movement as recollected by Representative John Lewis and realized in comics form by Andrew Aydin and Nate Powell — is anything other than a towering achievement of remembering our history lest we repeat it. And it is equally impossible to say that March: Book Three is anything other than a wholly deserving nominee for the National Book Award.
So it's pretty fitting that it won last night in the category of Young Peoples Literature.
In the words of Congressman Lewis:
This book is for all of America. It is for all people, but especially young people, to understand the essence of the civil rights movement, to walk through the pages of history to learn about the philosophy and discipline of nonviolence, to be inspired to stand up to speak out and to find a way to get in the way when they see something that is not right, not fair, not just.
It's been five decades since the years that John Lewis put his body and his life on the line to ensure that all Americans would be recognized before the law as equal. It's been 35 years since he ascended into political office in Atlanta as a city councilor, and this year marks the 30th since he was first elected to the House of Representatives. I'm certain he had hopes that some fundamental questions about the nature of our democracy were settled. I'm pretty sure that he's got a close eye on current events and keeps a well broken-in pair of shoes ready for the next march he needs to make.
Congratulations to Congressman Lewis, Aydin, and Powell; I wish that we had learned your lessons better.
---
Spam of the day:
From: Gliceria Tyrrell
Your message is ready to be sent with the following file or link attachments: 20160831_104911
Note: To protect against computer viruses, e-mail programs may prevent sending or receiving certain types of file attachments. Check your e-mail security settings to determine how attachments are handled.
You're going to send me an email from a fake relative with a Harry Potter first name and I'm just going to click on your virus-laden attachment because you put in a sentence about being safe around viruses and implying I should disable safety measures? That's just insulting.