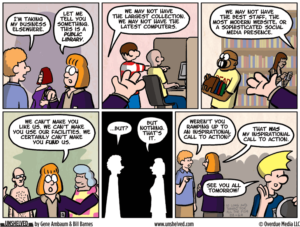 It's been a shit week, but at least one thing happened as expected … even if it's a bit bittersweet.
Unshelved, written by actual (if pseudonymous) librarian Gene Ambaum, drawn originally by Bill Barnes and more recently by Chris Hallbeck, has finished. The concurrent Kickstart to print the remainder of the very long running strip (nearly 15 years!) wrapped up a week ago, sitting at roughly five times goal. Barnes (who stepped back from cartooning to return to the exciting world of software industry project management) returned to draw the final week in which the question is asked What if you try to rage-quit and nobody cares?
A patron is trying his damndest to indicate that he'll never come back to the Mallville Library, never I tell you! Don't try to beg me to stay (totally beg me to stay)! the staff and library-goers are unperturbed. Today it all comes to a head — he announces he's going elsewhere, branch manager Mel recites a litany of challenges faced by the library, but it's no stirring call to action; it's just facts. Dewey gets in the final word: See you all tomorrow!
The challenges never end. The work never ends. The lives go forward without us getting to peek in any longer. Ambaum and Barnes and Hallbeck likewise move on, to be seen other places, launch other projects (creative and not), some of which we'll be privy to, others not. Ambaum, at least, will continue to speak and appear at library conferences, where he's a rock star
And somewhere, it's always the middle of the afternoon and a library-loving kid is assembling a stack of books, looking forward to the chance to read them. There's worse places to be.
---
Spam of the day:
MAINTENANCE-FREE TO FULL-CARE LIVING OPTIONS
I thought this meant maintenance in terms of maintenance fees, but nope — turns out it's another spam that thinks I'm old and need to live someplace where they'll take care of me. Still in my 40s, spammers!