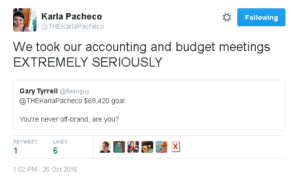 Where to start? With the hotel that didn't supply all of the lightbulbs it should have, more than one towel, and a working phone? With the gig assignment that sent me to the wrong office? With my laptop, which decided that it's still the '90s and wifi is not a thing? With my voice, which is rapidly decreasing? I think that KB "Otter" Spangler hit the nail on the head re: today earlier this morning. So despite some genuinely encouraging news, I've only got enough bandwidth (mental and TCP/IP) to go brief. As it so happens, we're heading to Kickstarter and staying there today.
Firstly, followup on Letters From Lucardo (cf: here), which hit goal in half a day and is now sitting at 150% about two days in. Not bad for a largely-unknown Scandinavian creator making a first book, but then again Iron Circus has a reputation of delivering quality smut on time. so there's that. The Fleen Funding Factor (Mark II) predicts Lucardo will finish up at US$45K +/- $9K, with a personal expectation that it'll go up in subsequent volumes.
Secondly, Tessa Stone (who partnered with Ananth Hirsch on Buzz! and Is This What You Wanted, has launched a Kickstarter for the first volume of her own webcomic, Not Drunk Enough. The semimythical George is shepherding the project, so full confidence that things will run properly. It's not quite old enough for the FFF mk2, but it is at 58% of its US$17.5K goal, so that's okay.
Lastly, a dream (?) team of creators/professional reprobates is seeking to raise US$69,420¹ to release a pay-what-you-can Full Motion Video game based on the work of Dr Chuck Tingle. All buckaroos and others opposed to demonic forces are encouraged to investigate >deep breath< Kickstarted In The Butt: A Chuck Tingle Digital Adventure for the opportunity to spread a little joy to people whose lives are sorely lacking in (quoting now) Unicorn Butt Cops, the unexpected juxtaposition of disparate concepts (for instance: pirate, ghost, and bigfoot), and the absurd treated as the mundane. With hot, hot, butts (butts technically optional):


The very nature of the Tingleverse is The Rawest of Graphic Sensualities, but players who aren't down with visual depictions of sexual content needn't fear. While we're working with video and real actors (the cast will most certainly SURPRISE and AMAZE you), there won't be explicit footage of people taking a trip to bonetown. Our salacious scenes are literary in nature and read aloud by talented performers, intended to pound the most sexual of your organs … Your imagination.

We're also including a Kitten Mode, where sexual situations will be replaced by footage of kittens playing. If you wish, you may also engage Kitten Mode on its own, just to watch some kittens playing, because why not.

Or, in case you are called to explain the project in an elevator pitch-style quick sentence, the developers have provided one for you: Our exquisitely handcrafted smut puts the anal in artisanal.

No stretch goals (overfunding will just result in a prettier game), but higher reward tiers will allow the backer to be involved in the game². Go, give, and may whatever spiritual or supernatural power you believe in recognize your virtue and buckaroo nature³.
---
Spam of the day:
D? you care about dental hygiene?
Yes. That's why I go to the dentist, who takes care of my teeth. Oh, sorry, was this not a rhetorical question?
______________
¹ An amount also known as one sexweed.
² Obligatory disclaimer: this may involve visual or verbal depictions of the backer being subjected to literary poundings in heart, brain, AND butt.
³ Buckarooness? Buckarooality?