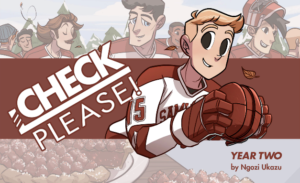 So an interesting thing happened today. The five top-funded Kickstarter comics projects prior to about an hour ago were:
All long-running projects with zillions of readers, deep archives, and well-established creators. All the hallmarks of success under the general rules of engagement that we've been working under for the past decade or so. Yeah, those rules just got re-written because as of now, the new number five goes to a Tumblr-hosted, irregularly-running comic about gay college hockey players that's only been around a couple of years:
Check, Please Year Two (2016; US$399K, 5.1K backers, 1226% of goal)
Which prompts one to consider what lessons may be learned.
Lesson: Much in the way that New York is not a city (it's a collection of 900 different neighborhoods that happen to have a common political structure and very little else in common), captial-w Webcomics is not a medium, it's not a delivery mechanism, it's a collection of niches. Whatever your niche, there's people out there that will respond to it.
Lesson: The more underserved the niche (or niches that intersect in non-obvious ways), the bigger the pent-up demand for the story you're telling.
Lesson: The necessity of regular scheduling (even in a potentially post-RSS world) may be dead; a compelling story and characters that you care about will carry your readership over irregular updates.
Lesson: The US$75K that Ngozi Ukazu raised a year and a half ago for her first reprint wasn't a fluke; it was a warmup.
Reminder: Webcomics has always been defined by what's next; what delivery channel, what payment mechanism, what project. Smart creators are thinking two or three steps down the line at all times.
Reminder: Check, Please! is presently part-way through the third year of a story that will cover four academic years; the ending is closer than the beginning.
Conclusion: Ukazu is likely already planning for whatever will fill her time after Bitty, Shitty, Jack, Ransom, Holster, Lardo, and the rest hang up their skates. Smart publishers should be making offers to her now. She managed to raise nearly half a million damn dollars¹ on her first two projects with very little infrastructure behind her the first time out². If she's forward-looking and ambitious (and has a decent lawyer), there's no limit to how far she can go.
---
Spam of the day:
Getting help is easy with Tech Support Pro
You want me to subscribe to a support service from Verizon? That's hilarious. No, wait, what's the other thing?
Fiction.
_______________
¹ At just under US$400K for Year Two, the FFF mk2 overestimated the funding (prediction: US$600-900K), as the big first-day surge was likely to. The McDonald Ratio would have pegged funding at US$620K, at the low end of the FFF mk2. This isn't the first project where a huge Day One response skewed the prediction up by 50% or so, but still not enough data to predict what the limits of a Day One response to trigger the reduction would be. Data, man. It's weird.
² She coordinated the production of Year One while still a student, with Amplifier handling the fulfillment. Year Two, she's brought in Breadpig for logistical support, along with a designer and production specialist.