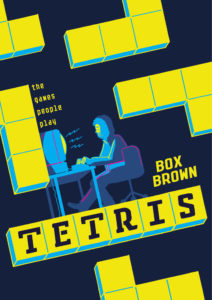 I keep hearing radio stories and reading articles about how there's this great new book about Tetris, of all things, celebrating the 30 years that the game has been rewiring the brains of Westerners.
And you know what? They're all talking about the wrong book. Don't get me wrong — I'm sure that Dan Ackerman's The Tetris Effect (named for the phenomenon where people hallucinated or dreamed falling Tetris pieces) is a fine book, but when it comes to complex ideas about a fundamentally visual medium, you need a different kind of guidebook.
Enter Tetris: The Games People Play by Box Brown¹, which shows us the (long, twisted, filled with machinations and actual Murdochesque media-tycoon villains) history of Tetris, its creators, and the effect it had not only on the videogame industry (it could arguably be said to have made Nintendo into a household name and killed at least two other companies), but on our actual brains.
Like Brown's last nonfiction graphic novel, he's taken a topic that most people would regard as Cool, but how much is there really to say about it? and found depths. He knows when to go broad, when to go deep, and how to let the outsized personalities in the story create their own character development. He finds the story behind the surface that nearly everybody knows, and his simple, chunky art is ideal for expressing something complex and making it relatable².
Which, if you think about it, is kind of perfect for the complex-yet-minimal-on-the-surface Tetris itself. I don't know if there will be a Tetris effect, but Brown's book is nearly as compelling and addictive as its namesake.
---
??????r?nt?t????n???m?s, bad credit OK
translation: cheap rent to own homes
Look-alike letters interspersed with actual roman characters to get around pattern-matching blacklists? You suck for that, but you suck even more for being the most exploitative industry on the damn planet.
_______________
¹ Out today from :01 Books, who were kind enough to supply me with a review copy some months back.
² cf: Chapter Two of Understanding Comics.