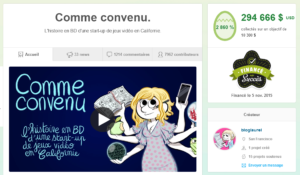 Well, that turned out to be less disastrous that it could have (in that the bill was about 10% of the bad outcome, but still greater than most people could throw together on short notice — I'm lucky to have the ability to keep an emergency repairs slush fund without too much sacrifice), but required a bunch of time and it's still not quite done. Missed a bunch of stuff while I was gone, too:
On the other hand, I am around to catch some timely things, like:
The incomparable Hope Larson (comics maestra, ice cream maker extraordinaire, and caterpillar wrangler to the stars) has found enough time in her schedule (between Batgirl and her next book, out sometime in 2018) to resume Solo¹, or the news that after fifteen years, 4500 strips, and one-and-a-half creative teams, Unshelved is coming to an end next month.
There's also word of a benefit for the Cartoon Art Museum (reminder: they've been sleeping on the couches of other museums for a while now, and could really use some help getting back to a place of their own) next month, featuring cast members of Avatar: The Last Airbender and The Legend of Korra:


Go behind the scenes of The Legend of Korra and Avatar: The Last Airbender with special guests voice actors Janet Varney, John Michael Higgins, Mindy Sterling, Dante Basco and Avatar: Legacy illustrator Dan Parsons. Cosplay highly encouraged! All ages welcome.

The event will be 19 November, starting at 7:00pm, at the Jewish Community Center in San Francisco. General admission tickets at US$28, with premium tickets (which get you an autograph from each special guest) for US$38, with CAM members receiving a 10% discount. Tickets can be purchased via the Friends For Benefits website and are likely going to go fast.
And, as promised:
Team Maliki has just unveiled the first self-published Maliki collection, and to the surprise of absolutely no one they have launched a preorder [French version] for it on a crowdfunding platform called Ulule [English version]. One aspect which stands out is the use of "books" rather than "sum collected" to define stretch goals.
Gary here. That's a new one on me — I'm going to have to think about how it differs from regular currency-based stretch goals, but it could allow a project with multiple forms of a book (PDF, softcover, hardcover, limited edition, retailer discount multi-packs) to count equally towards stretch goals. Interesting.
[T]here is some precedent for a French comics campaign of this scale, which in fact may be a daunting yardstick to be compared to; I couldn't cover it at the time, as it was before I took up the mantle of Fleen Senior French Correspondent in January of this year, so this is the ideal opportunity to introduce it as background …

Laurel [Duermael, athough she's mononymic in her work], while French, lives in the San Francisco bay area with her husband, and works there as an illustrator, mostly for Docker. She maintains a comics blog about her life there. Don't be misled by her seemingly happy style, as she can deal serious blows, whether it is to cover her experience (French-only) dealing with the French consulate in San Francisco, or to excoriate (French-only) French magazine Biba and Little Market for a "competition" that amounted to providing illustration work for little more than exposure (and you know what they say about exposure).

Her blog is currently taken up by a story (only in French so far) titled Comme Convenu [As Agreed] which is inspired by her experience starting out in the Bay Area in a video game startup. Around this time last year, she launched a crowdfunding campaign on Ulule as a preorder for printing the first volume, with a goal of €9167.

It ended up funding in about one hour. After about one day, it was already 800% funded. It ended up funding at 2,860%² (no, this is not a typo). And remember, the story and book are only available in French, so this couldn't have been tapping in the established English-speaking comics crowdfunding audience.

Of course, Maliki: Blog does not need to reach the same kind of total amount to be considered a success, but I wouldn't be surprised if it ends up overfunding in a similar fashion.
At present, Maliki: Blog has pledges for 3414 books (on a goal of 1000); as those are spread out across three different quality levels (Classic, Collector, Super Collector), it's hard to say how much money it represents, but if everybody only opted for the lowest tier, that would be nearly €70,000³. With just over two weeks left to go, Maliki seems like as not to hit €100K.
---
Spam of the day:
Mighty Dolly
Okay, so they're pretending to sell me industrial warehouse equipment for moving heavy loads but you know what? If they told me that their dolly product was named Parton, I'd click on the link because Dolly Parton rules.
_______________
¹ I really dig Solo; it's her most adult (in the sense of acknowledging that being an adult can suck sometimes) and melancholy work to date, I think. In case you were wondering, no Karl Lagerfeld here.
² That would be in excess of a quarter-million Euro. If I have my exchange rates correct, that would have been just shy of US$300,000.
³ Conversely, if they all opted for Super Collector, it would be over €170K; just a €100K margin of uncertainty, no big. Oh, and as of this writing, €1 is a buck-eleven (US$1.1139 to be exact, which there's no point in being since it's gonna float).