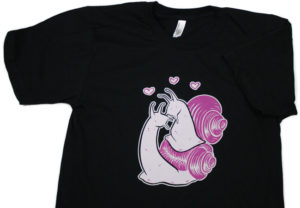 Ready for the weekend? Me too. Let's look ahead just a bit, though.
The 5th of October is gonna be a fun one in comics shops, as it will see the debut of both the original graphic novel Squirrel Girl Beats Up The Marvel Universe (Ryan North and Erica Henderson), but also the reissues with comic shop safe covers of Oh Joy, Sex Toy (Erika Moen and Matthew Nolan) volumes 1 and 2. For added bonus fun, Oh Joy, Sex Toy volume 3 will hit a mere month later, on 9 November.

The latter is brand new to everybody, what with Moen & Nolan's deal with Oni Press imprint Limerence moderating the need for a Kickstarter campaign this time². It's a great time to see webcomics folks in the traditional store channel, particularly since it's because of such fun topics as a) Squirrel Girl, and b) sexytimes.

As long as we're talking about the next couple of weeks, the Cartoon Art Museum continues its outreach and education programs whilst simultaneously looking for new digs. Next up: weekly adult classes on character creation (October 13, 20, & 27) and visual story design (November 3, 10, & 17) at CAM's temporary educational space, 275 5th Street in San Francisco.

Classes run for two hours each (6:30pm to 8:30pm), at a cost of US$135 for the public and US$100 for CAM members. Considering individual membership only runs US$45 (US$35 for students), that's practically the cost of a year's support there in the discount.

Oh, and in-session materials will be provided, but you may want to pick up some basic tools (pencils, choice of inking tool, paper, sketchbooks) for homework/practice. The session sign-ups are found at the links above.
So it's a bit rainy and a bit melancholy and a whole lot Fall-y¹, which is very possibly the best season. Get out there and enjoy it. See you back on Monday.
---
Spam of the day:
[block of kanji I'm not going to look up Unicode for and paste in individually]/VIRUS DETECTION(SMTP,Trojan:W97M/MaliciousMacro.GEN)
Oh my goodness, a throwaway address in Japan is warning me about viruses on my computer! Whatever shall I do? [hits the delete button, goes to get more tea]
_______________
¹ Note to readers in the Southern Hemisphere: it is so Fall. If you claim it's Spring, fine, but here it's Fall.
² This point was previously worded differently, and poorly. The intent is: a Kickstart is well and good, and will meet immediate needs as well as supply a modest inventory for store sales. A publisher means reprints as necessary and enough stock to supply as many comic shops as come calling without the danger of going out of print. Fleen regrets the clumsy construction caused by poor wording.