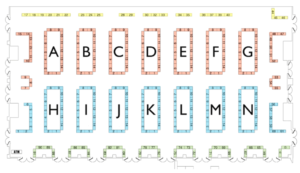 You had to be there, but trust me, it was hilarious.
This is your periodic reminder that Rosemary Valero-O'Connell is my favorite new creator, and we had a lovely conversation last night. She'll have a very few copies of her latest mini — the first portion of her graduation thesis, which I am dying to see in print in its full glory — available at her table at SPX this weekend; alas, I can't make it, but you are all instructed to seek her out (table W44) and tell her I said hi. You must also each look at her comics wares, and if you have any sense realize that they are terrific and resolve (as I have) to get her next big project (Laura Dean Keeps Breaking Up With Me, written by Mariko Tamaki, from :01 Books) the moment it's available in 2018.
Speaking of SPX, I don't believe I've mentioned who's going to be there, possibly because it would be easier to list isn't going be there. Now SPX is the premiere show for web- and indie-comics creators, from the brand new to the fully established, so likely everybody tabling is somebody you should at least considering talking to, but my eye fell on certain names. It's by no means a comprehensive list, so feel free to point out any I'm missing. In addition to Valero-O'Connell and Special Guests Lisa Hanawalt, Sarah Glidden, and Sophie Goldstein, you'll find:

Aatmaja Pandya (J14), Abby Howard (E3A; not to be confused with Abigail Howard at N6A), Amanda Lefrenais (E2), Ananth Hirsch & Yuko Ota (W71), Audrey & Jamie Noguchi (D8), Becky Dreistadt & Frank Gibson (W32), Blue Delliquanti (E13B), Box Brown (F1-2A), C Spike Trotman (E1), Carla Speed McNeil (G2B), Chris Yates (TopatoCo's emporium at W33-36), Clay Yount (C8B-9), Drew Weing (L12B-13), Dustin Harbin (W12B-13A), Eleanor Davis (L12B-13), Eric Colossal & Jess Fink (W37), Evan Dahm (F8), Gemma Correll (W79), James Kochalka (F1-2A)

<inhale>

Julia Gfröer (C2), Kate Leth (W30), KC Green (with TopatoCo), Kel McDonald (E2), Lucy Bellwood (L14), Maritza Campos (F9A), Matt Bors (TopatoCo, with the new 2017 The Nib calendar), Matt Lubchansky (TopatoCo), Megan Gedris (K3), Melanie Gillman (E14), Meredith Gran & Mike Holmes (W40A), Miss Lasko-Gross (B1-2), Molly Ostertag (M9B), Noelle Stevenson (W83), Rachel Dukes (M4B), Rebecca Mock (H5A), Ross Nover (C8B-9), Sara & Tom McHenry (W39), and Tony Breed (K11A) (whew!).

One person that's not going to be there? "Hurricane Erika" Moen, but that's okay, because she and husband Matthew Nolan are too busy celebrating the announcement of the Oh Joy, Sex Toy [very] adult coloring book, available from wherever you buy comics, but probably only by request because holy mother of glob, there are hella boners on display. Boners for you to color however you want.

Oni Press imprint Limerence Press is making good on its promise to provide sexually explicit (but legitimately educational) material to the direct market, also announcing a second adult coloring book, and a graphic novel dealing with queer health; Alexander Lu has the details Heidi Mac's place. The Oh Joy, Sex Toy Coloring Book will be released on 8 February, just in time for Valentine's Day sexytimes.
---
Spam of the day:
Belize Real Estate — Amazing Investment Properties: Now Available
Do I look like a self-deluded dickhead on House Hunters International that is demanding a 4000 square foot center-hall McMansion with all the mod-cons for US$75,000 in an overseas location? Because I assure you, I am an entirely different dickhead.