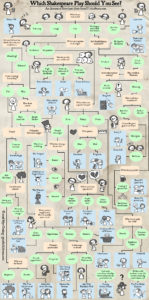 Pretty sweet being an unpaid hack webcomics pseuojournalist, sometimes. Pret-ty sweet. Here's what caught my eye today.
Peace, Good Tickle-Brain is not a webcomic I've known of previously, which means I need to have words with one Mister E[ric] B[urns]-White, seeing as how he's my go-to guy for literary things and P,GT-B is mostly dedicated to Shakespeare. I noticed it today because an older strip (it's from April) has been linked about in the sosh meeds, and it combines two of my favorite things: Shakespearian plays and flowcharts, to help you find the play that's right for you.

And you know what? It works. As I encountered each question I answered in the way that was most appropriate for one of my favorites (Twelfth Night, Merry Wives of Windsor, Comedy of Errors, Henry V, and especially Much Ado About Nothing) and BAM! Arrived at the correct destination each time. It's foolproof!

There's also scads of play-appropriate comics (example: taking a French woman to see the Olivier version of Henry V, a comic which ran on the vigil of Crispian Crispianus), and if that's not enough for you, check out the Three Panels series of comics (examples of which are linked above). Willy Shakes only ever aspired to create popular entertainment; if he was around today, you can damn well bet he'd be doing a graphic novel adaptation or two.

On top of everything else, creator Mya Gosling is into rock climbing, which is the closest thing to a sport I've ever voluntarily engaged in. Go read the whole site, it starts just about three years back updating twice a week, so there's a decent (but not forbidding) archive trawl.

From the mailbag: Web- and indie-comickers Shing Yin Khor, Elan' Trinidad (previously noted here for his work on God™¹), and Marc Palm, and scientific illustrator Reid Psaltis (dinosaurs!) have communicated to say that they've collaborated on illustrations for the weirdest, funnest project I've seen in quite a while:


Dream It! Screw It! lovingly mocks the history of Disney theme parks. This art book parody tells the life story of Dipp Disney – Walt's drunk, dumb cousin with a job for life at Imagineering – through dozens of his Disney attraction ideas rightfully rejected for being too impractical, violent, sexy, insane, or all of the above.

Words are from humorist and Disney Princesses author Geoffrey Golden, who taglined the project as Rides Too Dumb For Disneyland. Dream It! Screw It! is published by Devastator and releases on 28 September. A release party/reading with free churros will take place at WACKO in LA on 15 October from 7:00pm to 10:00pm.
---
Spam of the day:
Whats the best thing about Toilet Paper Coupons
I confess, I haven't given this one a lot of thought.
_______________
¹ Full title: "God™ © 2XX8 *** ***** ****** ******* Incorporated. All rights reserved. God and all related characters, titles, names and documents are trademarks of *** ***** ****** ******* Incorporated. No similarity between any of the names, characters, persons and/or institutions in this deity with those of any living or dead person or institutions is intended and any such similarity which may exist is purely coincidental."