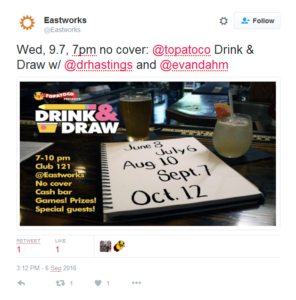 Life (that would be work) is kicking my ass today, so I only have time for a quick notice and a doubleshot of spam (I left it out yesterday because spammers don't get to share a post with Raina Telgemeier).
Probably too late for almost everybody, but today is the first Wednesday of the month, and that means TopatoCo Drink 'n' Draw at Eastworks. I'm writing myself a note to email Holly and Jeffrey about next month, because I didn't even see this one until yesterday.
Anyways, tonight's event runs the traditional 7:00pm until whenever, and stars the Darlings of Brooklyn, Christopher Hastings and Evan Dahm. Those guys need to do a project together; they've both contributed to the Tales From The Drive series (courtesy of Los Angeles resident Dave Kellett), but I can't recall them ever working directly with each other. Tell them I said hi and also we need to hit my bar again.
---
Spams of the day:
Quick dating in Portugal without registration
Well, as long as it doesn't require registraion, sure I'll use your entirely legit dating site to meet women an ocean away.
Here are some Options for Breast Augmentation
I am happy with my body as it is, thanks.