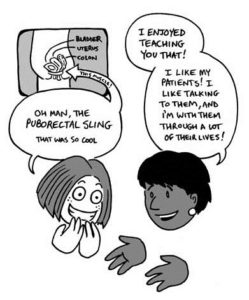 Okay, nothing from Marian Call, Hope Larson, or Kate Beaton, and I did meet Marguerite Sauvage, but still. Let's go with the theme when it suggests itself.
Where are you going to be between week after next and early November? Because you will want to coordinate your place-being with that of Raina Telgemeier as she does her nationwide book tour in support of Ghosts. As it turns out, I'm going to be in Minneapolis the same time Raina is, and I hope to catch up with her there (bearing in mind that the grind of a book tour is, if anything, even greater than the grind of a show, when we already don't get enough time to talk)¹.

Please note that these events are ticketed, and each venue has its own rules, which you should review. Also, I'm hearing that some of the venues are already sold out (or nearly so), so if there's a Telgemeier fan of your acquaintance² you may want to grab tickets now and work out logistics later.

Brigid Alverson is one of my favorite people; she's been doing the [web]comics journalism thing longer (and better) than I have, and as her day job is in local government, we always get to talk about the logistics of emergency services when we run into each other. And that's pretty much the deal — no matter how many times we say We should make definite plans for SDCC, we always seem to bump into each other at random on the show floor, without fail. She's got a new interview with John Allison on Oni Press's plans to do a second reprint format of Allison's Bad Machinery.

Now I love me my big, floppy, oversize landscape format Bad Machinery collections, so I'm glad to see that Oni will keep producing them. But the newer, smaller trim size (about 15×23 cm) will certainly be easier to drop into a bag or read in transit, and the cover that Allison shared for the new volume one is gorgeous. I'm not going to buy them all again, but for those that didn't get in on the large format, the new trim size will be available from March 2017, at a lower price point. Everybody wins.

Cathy Leamy and I met for the first time in the hallway outside Kate Beaton's spotlight panel; I recognized her name, but didn't remember at the time that she'd been mentioned her on the blog before, back when Anne Thalheimer was contributing. Circles inside circles, man.

Anyhoo, Leamy (as you may recall) does comics that do medical education, so I was happy to see the RSS feed go ping! as she dropped a new one on us, explaining perhaps the single most mystifying, aggravating question in all of modern medicine: Why is the doctor always late for my damn appointment? Short answer: people.

Longer answer: life is full of friction, because people. It's a nice explainer, with plenty of acknowledgment of frustration on both sides of the issue, which will hopefully will lead its readers to have a bit more patience, do their best to help keep doctors on schedule, and make appointments early in the day before it all goes straight to Hades.
---
Spam of the day:
Compare Health Care Providers — Your Landlord's insurance is only there to cover them and their property…not yours. That's why Renters insurance is so important!
I think you might have mixed up the parameters in your spam-personalization code. One scam at a time, please!
______________
¹ I probably won't be able to get from the work gig to the event in time, and if space is tight I don't want to keep one of Raina's younger readers; I'll try to meet up with her for dinner and reviving adult beverages after.
² My wife told me this morning, I read your copy of Ghosts, it was so good; she's got excellent taste.