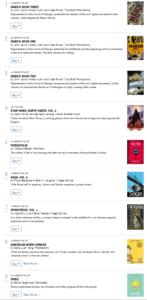 We as a society have obviously done something seriously wrong, in that the latest New York Times Best Seller List for graphic novels (paperback) shows only one title by Raina Telgemeier: Smile, in week #218, at slot number 9. It's hard to argue with the top three slots being taken with the three volumes of March by Rep John Lewis, Andrew Aydin, and Nate Powell, or with Gene Luen Yang's American Born Chinese getting some love (ten years after release, but there was no NYTBSL for graphic novels ten years ago), but still¹!
Then again, Ghosts is due on 13 September, and the list starts ramping up a couple weeks before launch day (remember, it represents sales to the retail trade, and the list runs early — this week will be published on 28 August, but represents sales ending 13 August). What I am saying here is that we should expect to see a run on All Things Raina in about two weeks.
And in any event, the next six weeks or so is going to be a glorious time for webcomickers in print — the second volume of Secret Coders by Yang and Mike Holmes releases on 30 August; Ghosts will be joined on the 13th by Kate Beaton's King Baby and Mervin the Sloth Is About to Do the Best Thing in the World by Colleen AF Venable & Ruth Chan to form The Best Tuesday Ever.
Then a scant three weeks later we'll see the first volume of Jason Shiga's Demon on 4 October, and Box Brown's Tetris a week later on the 11th. I'll be reviewing as many of these as I can between now and release day(s)².
In the meantime, I'll note that we're halfway through the crowdfunding campaign for KC Green's This Is Fine plush and looking at an astonishing 10,366 (as of this writing) backers and US$370,770 (ditto) in funding. This is more than 1000% of goal, and heading for a finish somewhere around 750 thousand damn dollars³. I can't wait to see the bump that occurs in the last three to five days.
---
Spam of the day:
Are You METAL Enough to Take on the Heavy Metal Machines, Gary?! In case you missed the news, WE WANTED TO SCREAM IT INTO YOUR FACE WITH THE POWER OF 5000 DIESEL ENGINES! \m/
What.
______________
¹ Also contributing: the annual return of Persepolis, as various college classes that use it (also MAUS) stock up for the new academic year.
² Obligatory disclosure: Gina Gagliano at :01 Books sent me copies of Paths & Portals, Demon, and Tetris; Raina gave me an advance review copy of Ghosts, and Kate gave me a copy of King Baby. I still have to track down a copy of Mervin.
³ Using Kel McDonald's rule of thumb: first three days equals one third of final total. Per Kicktraq, Green raise approximately US$265K in his first three days, yikes