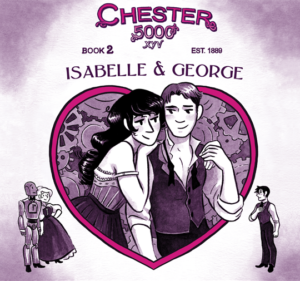 I'm in a much better mood, and things have happened that allow me to write considerably more than I would have otherwise. Let's do this.
Recent Past! Yesterday marked eighteen damn years of Jerkcity, which I freely admit is a bit too unstructured for me, but for which I will always be grateful because it was my introduction to Rands, who in real life has taught me more than I can recall about the industry I work in, the people that inhabit it, and how to interact with them. Also, bags and pens. He's smart like that.
Past, Present and Future! Josh Fruhlinger wrote a book which I enjoyed a great deal, and he has very kindly opened the metaphorical kimono to share data regarding it. The Enthusiast was funded via Kickstarter, and Fruhlinger has done a detailed post on how the money got spent, which anybody considering a crowdfunded project should consider to be a valuable look at what to expect. Read carefully and absorb.
Today! One year ago, Ryan North did the most Ryan North thing possible when he got stuck in a hole and got out by treating it as a text adventure game with all of Twitter as the controlling player. It's well known that there are no holidays in August, with some countries resorting to making up arbitrary "bank holidays" to make the month less suicidally depressing, so may I suggest that from now on, 18 August¹ be known as Northole Day? We can celebrate by walking our dogs with umbrellas and seeking out holes. Somebody tell David Malki ! to include it in the list of holiday's for next year's perpetual calendar.
Also Today! I got my copy of Chester 5000 XYV: Isabelle & George. I will never not love Jess Fink for her ability to mix together real emotion, real pretty pictures, and really hot, hot sexytimes in one story. I think I understand the whole Stucky thing now.
Next Month! It's just four weeks until SPX rolls around (sadly, I won't be able to make it, as it will fall in the middle of back-to-back weeks where work sends me to Minnesota), and the Ignatz Awards nominees have been announced. I first saw the slate over at Comics Worth Reading, so props to Johanna Draper Carlson for being on the story early.
What I found especially interesting is the jury members: Tony Breed, Summer Pierre, Keiler Roberts, C Spike Trotman, and JT Most²; There's a lot of web-first art from these creators, and unsurprisingly the category for Outstanding Online Comic is super strong:
That's an impressively wide range of styles, topics, and presentations, and really no bad choices there.
Other nominees that hail from the wide world o' webcomics include Melanie Gillman (As The Crow Flies) for Outstanding Comic; Jason Shiga (Demon) and Keiler Robert (Powdered Milk), and various contributors to the Isaac Cates-edited Cartozia Tales for Outstanding Series; Lisa Hanawalt (Hot Dog Taste Test) for Outstanding Graphic Novel; Kate Beaton (Step Aside, Pops), and various contributors to the Sfé R Monster & Taneka Stotts-edited Beyond: The Queer Sci Fi and Fantasy Anthology for Outstanding Anthology Or Collection.
Uniquely, the Ignatzes (Ignatzen?) are voted on by the attendees of SPX, with the votes quickly tallied between end of exhibit hours and the start of the awards ceremony on Saturday, 17 September. Best of luck to all the nominees.
---
Spam of the day:
30??nimals Surprised By Their Owners Coming Home Sooner
Cute, but why is the same address in Romania sending me pictures of animals, pictures of Asian women, pictures of beautiful vistas, and pictures of "unbelievable fails"?
______________
¹ No shifting to a Monday or Friday for a long weekend, it has to fall on the 18th.
² I'm not familiar with Most and I'm finding it impossible to Google them, as all the responses refer to Justin Timberlake and headlines like Is this JT's most awesome video ever?.
It's sort of like how the one person I'd be interested is finding from high school, my old physical lab partner, is un-Googleable, because her name closely matches the nickname of an old aircraft carrier and all matches are for sailor reunions. Her sister is also un-Googleable, as her name matches too closely with DC superhero Robin. They've achieved the dream: no digital footprint thanks to a favorable signal-to-noise ratio.