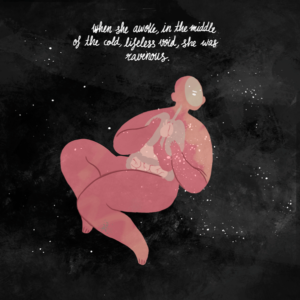 It's a How on earth did I miss this before? kind of day, as I've just seen (thanks to a tweet I was pointed to by herself) that Rosemary Valero-O'Connell — aka my new favorite creator — has done a creation myth comic and shared it with Paper Darts and it is transcendent. Seriously, that text wouldn't be out of place in a Gaiman short story¹ and the art makes me smile through all the myriad idiocies and hassles today has offered.
The World And How It Came To Be has been on her page and I just never noticed. Bad blogger, bad! It's astonishing to me that she's barely three months out of college and putting out work this good. Go read it. Read everything on her page; I've linked it over to the right for easy reference.
So that you not miss them and kick yourself (as I do above), some things that have come up more recently that you should note:
The invaluable Katie Lane (attorney at law and best friend of the artistic community) has this day included on her blog a post about collaboration and how to handle the potentially tricky issues of copyright/ownership. It's never fun to think that your great artistic partnership could end in acrimony, but acknowledging the possibility and acting in advance to clarify outcomes² if far preferable to letting it all blow up in your face and end in limbo.

You may have read thoughts along these lines from Price previously (it previously ran in issue #3 of Island from Image Comics), but the original location seems not to be easily available any longer. Partnering with somebody? Read it, all partners. Maybe partnering with somebody in future? Read it, and make potential partners read it. It's going to save you heartbreak.

'dja ever wake up and say to yourself, Self, there's just not enough wangs in my life, or really any kind of sex toy? Lucky you, Erika Moen and Matthew Nolan have got you covered. As a side-effect of running the premiere sex toy review blog/webcomic, Nolan and Moen have amassed a surplus of fun things for your joybits, and they want to spread the fun around.

There's a big ol' giveaway going on for US-resident supporters of Erika's Patreon, with a list of the stuff up for grabs over at OJST. You'll have to go to a Google Form to fill in your deets (including which items you want to be considered for); since they won't be doing the draw until early September, you've got two weeks to support Moen's Patreon and be eligible.

Remember, no support, no chance to get toys. Even better, Nolan says that they may also be doing a porn giveaway in December³, so get in there and pledge.
---
Spam of the day:
Shock Your Golf Friends – Hit 20 yards Farther!
If I ever have friends with whom what I have in common is golf, kindly put a bullet in my skull and burn the corpse as that will be proof that what you see if not me but a goddamn alien brain-sucking body snatcher.
______________
¹ Heck, it could form the complete text of a very short story.
² Or to mitigate potential damage, if you prefer.
³ Just in time for last-minute holiday shopping!