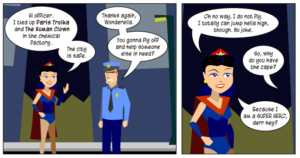 It's definitely one of those days, when nobody around you is capable of following even the simplest directions. So let us talk about webcomics, that I may regain some sanity. There's some things we mentioned in recent times">recent times that are come to fruition that I would share with you.
One may recall that The Nonadventures of Wonderella has been offering up slacky delight for approximately forever. More specifically, 11 days from today (that would be 26 August 2016) marks ten years of Justin Pierce chronicling the events around Wonderella, Wonderita, Hilterella, Jokerella, Wonderella's mom, Jesus (Lamb of Hosts), Dr Shark, and the other residents of a cape-common world gone … not mad per se, but vaguely annoyed. Add in the five years that that Pierce ran the much-missed Kilroy & Tina at Modern Tales (RIP) and you've got a seriously long run of weekly (or better) comics and it's time for a shift.

We mentioned all of this back in May when Pierce announced it, but it seems like a good time to remind y'all that the 27th will be the last weekly Wonderella; thereafter, Pierce will be updating whenever he's got a story to tell — might be a page, might be five or ten. If you've enjoyed the world's greatest superhero (with the world's greatest idea), maybe take the time between then and now to drop Pierce a line and tell him so?

Toward the end of June, we noted that Anna Galactic (the third? I think it's third and Yontengu the fourth) scifi (mostly) comedy (mostly) webcomic by the prolific Christopher Baldwin would shortly be wrapping up and Spacetrawler returning. At the time he wasn't much more specific than sometime in August/September, but if you've been following Anna, you know that she's in the endgame, and while there's a reasonably happy ending for our protagonists, it comes with a side helping of every other human in the cosmos is dead (oops).

Endgame enough, in fact, that Spacetrawler will be relaunching next Monday, 22 August! And to celebrate the end of Anna Galactic, the traditional let's print the completed story Kickstarter went up today. Baldwin has set an extremely modest goal of US$4000 (his last Kickstart, for One Way, was unsuccessful¹, and he's gone even lower on his ask this time), of which about a quarter is covered so far. It's a simple, straightforward campaign: you can get a postcard, a PDF, a book (signed or unsigned), or two books (signed or unsigned). No crazy rewards, no stretch goals, just order up here if you like his stuff. PS: His stuff is very likable, so go like with money.
---
Spam of the day:
Your Mechanical Engineer Training Options — Graduate with strong job prospects
Oh son you seriously did not just try to get an electrical engineer to click on your scam for fake credentials as a mechanical engineer. The only thing more insulting is if you tried to entice me to become some kind of chemical engineer².
_______________
¹ In a lot of ways, One Way was the least Baldwin-like of his SF projects — there was some real philosophical heaviness to it, a sense of resignation that contrasted heavily with the serious-but-leavened-by-goofball-antics Spacetrawler.
² Hi, Dante.