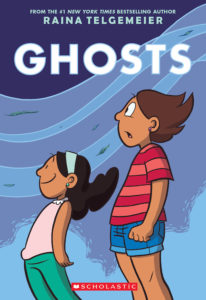 She had, in the hearts of her numerous fans, entered the territory of the mononymic, like Madonna or Bono or Frank¹, there is no doubt who you are talking about when it comes to superstars². And today there are things to mention regarding Raina [Editor's note: okay, fine, Raina Telgemeier] that you should know about, at least if you're out in the Bay Area.
Firstly, Ghosts is rapidly approaching release date, and that means release parties. Green Apple Books in San Francisco (that would be Raina's hometown) will be hosting such a party at 6:00pm (reading at 7:00pm) on Tuesday, 13 September (that would be the release date), and while they don't explicitly say that Raina's going to be at the party, she is tweeting out the event announcement.
Update to add: It's confirmed now.
In order to bring some order to what's going to be a busy, busy night, Green Apple are pre-selling tickets which are good for a paperback copy of the book, and have shifted to a location with ample parking and space away from the main store. No doubt other bookstores will be holding their own events to meet reader demand; if you know of one, drop me a line and I'll share it.
And in the meantime, whether you can get to the release party or not, there's a display of original pages³ from Smile, Drama, and Sisters at the Berkeley (that would be just across the bay from Raina's hometown) Public Library Central branch. They've even got five original pages from Ghosts, on view in the second floor through 26 August.
Central's hours and address are at their webpage, and like all libraries it's free and open to the public. Since it's a proven scientific fact that you can never have too much Raina, I'd advise everybody in the area to make the trip and look at some pretty damn great pages while we all count down to the 13th. Given the fact that Ghosts is going to have a print run of 500,000 copies (pretty sure that's a graphic novel record), you should be able to get a copy without too much difficulty, but I'd put in a pre-order, just in case.
---
[Media Alert] Behold the Instruments of Righteousness in Super Dung
What?
..eon Tactics!
Oh. Gotcha. Not a good place for the subject line to get truncated.
______________
¹ Okay, there is a little ambiguity here as to which Frank one might be mentioning: Frank as in Zappa, or as in Becky and.
² Also: George.
³ Hat tip: Mark V of Electric Puppet Theatre. Read his comic!