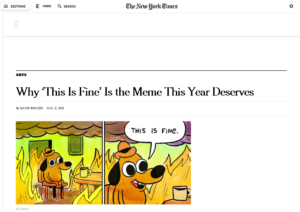 Several brief items for you today, as I am observing the first really nice day in forever and that's pulling on me more than webcomics at the moment. You know how it is.
KC Green seems to finally be hitting the long tail portion of the This Is Fine plush campagin but I'll note that so far today even though new support is but a trickle of the past two days, it's still more than US$18K and 500 people. I wonder if we'll see a bump from outside his usual audience when tomorrow's New York Times — which has an arts section story about Green, This Is Fine, This Is Not Fine, and the plush — hits widely.
Speaking of Green¹, he was the first to point me to another Kickstarter, that for the first print collection of The Meek by Der-shing Helmer. Three chapters of the longrunning (abeit with sometimes lengthy interruptions) adventure quest, with fancy upgrades to the book and bonus material on deck (Helmer's working with Taneka Stotts — who's done a number of successful projects — on the production end). Given the sometimes sporadic update schedule on The Meek, a book is probably the best way for new readers to get on board, so get to pledgin'.
Latest news on the TV adaptation of Kris Straub's Candle Cove: Deadline Hollywood reports that SyFy will premiere the series on Tuesday, 27 September. Set your TiVo now for maximum scares.
---
Spam of the day:
Looking for HOT
Great, more fake Russian dating site spam.
Laptops Deals? Check out the Latest Deals & Special Offers
… nevermind. Alhtough they are using the same picture as the Russian dating site spam was using.
______________
¹ Fans of The Meek now believe me to be in full Dad Joke mode. They're not wrong.