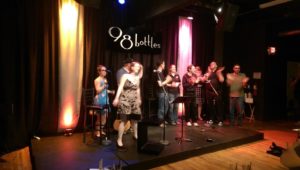 It is now, I suppose, early Saturday morning; I've just been to Space Time with Marian Call, David Malki !, Seth Boyer, Joseph Scrimshaw, and people who've driven rovers on another damn planet. It was great. But it appears that, courtesy of The Magicians, I'm not going to be getting to sleep anytime soon, so I may as well do a recap of (mostly) today (and a bit of yesterday)¹.
---
Creators who autographed my copy of Romeo and/or Juliet since I last mentioned it:
Kate Beaton, who in a massive irony, was signing just the other side of a curtain from the living embodiment of Strong Female Characters, the Suicide Girls.
_______________
¹ At Space Time tonight, both Raina Telgemeier and Pat Race had things to say about my plentiful use of both parentheses and footnotes, so these are for them.
² Not that I am complaining! Briana, Alison, and especially Charlotte were wonderful and great at their jobs. I hope that they got enough time to eat a granola bar at some point in the day because they were running flat out.