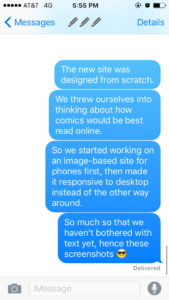 Hey, wanna see something(s) cool? Some cool ideas are back with fresh spins.
Firstly, the weekly announcement from Iron Circus Comics (C Spike Trotman, Benevolent Dictator For Life) about what's coming up on their publishing schedule, and it's both a return to form and a variation:


TITLE OF THE WEEK: Tim'rous Beastie, the next Iron Circus Comics anthology project!

That's right, folks. Get t'brainstorming, because we start taking submissions December 1st. Check the official tumblr for more information!

Conceived of and edited by ICC alum @littlefroggies?¹, Tim'rous Beastie is a collection for those of us who grew up on Redwall, Watership Down and other sagas of tiny critters on thrilling adventures in a big and dangerous world. But this time, Iron Circus is in charge. So expect the strange and amazing.

Fascinated? Curious? Wanna submit something? The Tim'rous Beastie tumblr has all details! But if you still have questions after reading? Direct any inquiries directly to that tumblr's Ask box, where we'll be sure to see them; it'll help us build the FAQ.

The return to form is, naturally, the anthology; the variations are that it's not Spike running the show, and that it's breaking the pattern of Smut/Not Smut that has characterized ICC anthologies for the past four years or so seeing as how the SF-themed New World was the last anthology they did. Nevertheless, Spike's got an eye for organizational talent as well as artistic, and Amanda Lafrenais has run multiple projects to completion, and there's every reason to believe that this one will go smoothly. Keep your eye on the Tumblr page for details.

Secondly, today marks the long-anticipated return of The Nib to editorial cartooning on the web, where they will resume the charge of daily providing sharp opinions on the state of the world. What's new around is the engine they're using the accomplish this, which I'm going to have to type in instead of linking (although you can click here and scroll down):


The new site was designed from scratch. We threw ourselves into thinking about how comics would be best read online. So we started working on an image-based site for phones first, then made it responsive to desktop instead of the other way around.

So much so that we haven't bothered with text yet, hence these screenshots [sunglasses smiley face emoji]

There's about three different design choices that I believe are literally unique and unprecedented, not to mention the never-been-done-before combo platter effect. There is some text on the site — titles, bylines, dates — but so far as I can tell, no full sentences anywhere.

It's surreal, slightly disorienting, and oddly compelling. I'll leave you to read through the rest of the announcement — told in screencaps, photos, Post-It notes, cartoons, tweets, and texts — but the end result seems clear: editor/impressario Matt Bors and his cohorts are back, they're heading to both political conventions in person for on-the-ground cartooning, and they're taking no prisoners. Bookmark it now.
---
This Tumbler Keeps-Ice 72 Hours!
Ninety-nine and a half times out of a hundred that I get an email about a tumblr, it's the kind generates the tears of those that lose it when you suggest that maybe you should include attribution for those cartoons you reblog. This one is an actual hollow container for liquid², but I'm not sure I trust the breathless ad copy about Recently exposed [sic] Space technology to keep your drink cold (it's an open-top vacuum thermos, people).
Plus, they claim it has an extra-large capacity of 30oz (337ml), not realizing that some of us friggin' know metric and that 337ml is about 11 fluid ounces, not 30. Factor of three mistake in something basic? I suspect it will keep-ice for closer to 24 hours.
______________
¹ The Twitter account @littlefroggies comes back as suspended, but Amanda Lafrenais — for that is who goes by the nick Little Froggies — has a valid account at @AmandaLafrenais, which is what I've chosen to link here.
² Like the aforementioned tears.