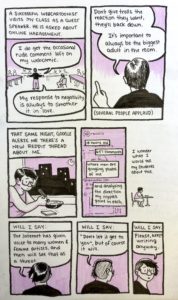 The PR is coming in hot and heavy, people are heads-down making last-minute arrangements for meet-ups (or getting work done before grabbing a flight to San Diego) … among other things, let this be your notice that Monday and Tuesday's posts may be sparse or absent, and Wednesday through next week will be plentiful from the San Diego Convention Center.
Speaking of San Diego, Andrew Farago at the Cartoon Art Museum (give them a couple of bucks, won't you? they need a home) shared the programming that CAM will be associated with at SDCC. Farago will be moderating a panel on Indie Comics on Thursday at 1:00 (that one made our programming guide), and there will be a CAM-sponsored Family Drawing session at 5:30 (that one didn't).

The highlight, as in years past, will be the near-constant parade of comics superstars at the CAM booth, Thursday through Sunday, sketching to benefit the museum. A schedule will be posted in the booth of who's covering what hour, but we're told that the dozens of sketchers will include Charlie Adlard, Lalo Alcaraz, Phil Foglio, Scott Koblish, Bill Morrison, and somebody named Raina Telgemeier (never heard of her).

Know who I have heard of? Melanie Gillman. Know what I'd like to know about them? Their artistic influences, their creative process, when their next comic is coming out. Know what I don't give a rat's ass about? Everything that a bunch of Reddit lowlifes apparently spend their fevered nights and days obsessing over with respect to what they looks like unclothed, a circumstance that is common enough for cartoonists (heck, anybody, but our focus here at Fleen is on cartoonists) from traditionally nonpowerful groups (i.e.: anybody not cishet white male) who dare to exist on the internet that Gillman has to think of how to prepare their students for the inevitable day that the soul-crushing objectification/hate machine turns their way.

So consider this one of way too many reminders and rejoinders that I have to leave on this page more and more often these days — don't do this. And if for some reason you think it's a good thing to do shit like this, kindly do me the favor of fucking off and never reading my stuff again. You suck and don't want even that tenuous, one-way connection between us.
---
Spam of the day:
Limited Time: Get $30 OFF our Best Security software
So you, a spammer/identity thief, want to sell me security software, and you choose something from Symantec, who have been screwing the pooch on their offerings all summer long? Bad choice, bandit.