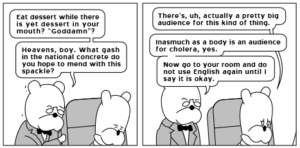 Oh Achewood, how you play with language delights me as few other things can. Let us just hope that Téodor has learned his lesson, and while we're at it, let's see what happens in the panel rooms for the first half of this year's San Diego Comic Con. As always, let us know if we've overlooked anything.

Special Program For Those Who Maybe Don't Even Go To SDCC
Space Time With Marian Call and Friends
FRIDAY 7:30pm — ??, 98 Bottles in Little Italy
An evening of music and nerdery; tickets $12 + $10 food/drink minimum, 21 and up.

Thursday Programming
The Graphic Novel Medium
10:00am — 11:00am, 29AB
Derf Backderf, Peter Kuper, Hope Larson, Sydney Padua, and Maximilian Uriarte kick off the show with a discussion of the graphic novel, moderated by Evan Narcisse who is seriously smart and a hell of an interviewer/moderator. I still remember the great job he did at SPLAT! back in 2008. I also enjoyed hearing him recently on This American Life.
Comic Book Law School 101: Genesis
10:30am — 12:00pm, Room 30CDE
The basics of intellectual property law, from actual lawyers and not people on the internet that got opinions.
Getting Into Comics And Staying There
12:00pm — 1:00pm, 28CDE
This year's iteration of Jim Zub and others willing to share their advice for getting into comics creation, thus creating more competition for themselves.
The Business Of Creativity: Can Comics Find The Balance?
12:30pm — 1:30pm, Room 4
Paul Levitz had a long and storied career with DC and is now a board member for BOOM! Studios. So maybe ask him why BOOM! financially screws their creators so badly, because it sure as hell doesn't seem like they're in anything resembling balance.
Something For Everyone: Indie Comics
1:00pm — 2:00pm, Room 29AB
Moderator Andrew Farago (from the Cartoon Art Museum) talking to Emily Carroll, Lisa Hanawalt, Jennifer Hayden, Keith Knight, and Ed Luce about how comics need not equal capes.
First Second Tenth Anniversary Celebration
1:30pm — 2:30pm, Room 4
Because they're the premiere art-house publisher of graphic novels, that's why.
Fantasy Mixology: The Perfect Literary Cocktail
3:00pm — 4:00pm, Horton Grand Theater
Don't be fooled, it's not about booze. Dammit!
We Need Diverse Comics
3:00pm — 4:00pm, Room 9
Nidhi Chanani, Ben Hatke, Nilah Magruder, Raina Telgemeier, and Ron Wimberly talking about how comics have changed and still need to change. Anybody arguing that white guys can write characters unlike themselves will be beaten by me. Moderated by Petra Mayer of NPR.
The Mark, Sergio, Stan, and Tom Show
3:30pm — 4:30pm, Room 8
You never listened when I told you to go listen to Sergio Aragonés and Mark Evanier, so now they've added Stan Sakai and Tom Luth. These guys have known each other forever and have about a century and a half of stories between them. Go.
The Nappy Hour
5:00pm — 6:00pm, Room 32AB
The latest iteration of Keith Knight's lightning-round discussion of comics/nerdstuff by, for, and involving people of color; joined this year by Lalo Alcaraz, Roland Poindexter, and Ashley A Woods. Anybody arguing that there should be panels about white guys and comics/nerdstuff will be beaten by me.
The New Comics Journalism: Representation For All
7:00pm — 8:00pm, Room 23ABC
The latest iteration of the state of comics journalism panel, with comics journalists Heidi MacDonald, Megan Purdy, Emma Houxbois, Brett Schenker, and others talking about journalizing.
Webcomics Advocates: The Webcomics Gathering
8:30 — 9:30, Room 4
As was done last year, webcomics creators will have 30 seconds to promote their work to the crowd. Seems like most creators will be getting dinner but you never know.

Friday Programming
Keeping It Short: Short Form Comics
10:00am — 11:00am, Room 28DE
Kate Beaton, Emily Carroll, Lisa Hanawalt, together, holy crap.
The Black Panel
10:00am — 11:00am, Room 5AB
Not the one with Keith Knight, but it does have Wayne Brady (who is more than that one Chappelle sketch).
Cartoon Network: Steven Universe
10:15am — 11:45am, Indigo Ballroom
Crap, crap, crap, do I try to get into the Steven Universe panel (that defeated me two years ago) or go see Beaton, Carroll, and Hanawalt? This one has Rebecca Sugar, Jeff Liu, Ben Levin, Zach Callison (Steven), Estelle (Garnet), Michaela Dietz (Amethyst), Deedee Magno Hall (Pearl), and Charlyne Yi (Ruby), with composers Aivi Tran and Steven Velema, moderated by Ian Jones-Quartey¹.
Comic Book Law School 202: Numbers
10:30am – 12:00pm, 30CDE
Part two of your legal education, talking about licensing, rights transfers, contracts, and the like.
Exploding Kittens And The Oatmeal
6:00pm — 7:00pm, Room 25ABC
Huh, I thought for sure that Matt Inman wasn't going to be around, seeing as how he doesn't seem to have a table. He's welcome to come say hi over at Dumbrella Central.
How Old Is YA In Europe And The USA?
6:30pm — 7:30pm, Room 8
Alas, I have tickets for the Space Time show or I'd be checking out this transatlantic discussion moderated by the invaluable Brigid Alverson.
The Girl Genius Radio Plays
8:30pm — 10:00pm, Room 24ABC
Because you haven't lived until you've heard Phil Foglio do a dramatic monologue as Othar Tryggvassen, Gentleman Adventurer.
---
Spam of the day:
Biblical Miracle Confirmed(pg. 1117 King James Bible)
That's a new one — biblical reference by page number. Every bible I've ever seen numbers the testaments (sometimes the individual books) separately, which means there isn't a page 1117. And even if there were, I doubt that whatever's on that page actually contains the secret to curing your diabetes in three days.
_______________
¹ Ask him about RPG World, I dare you.