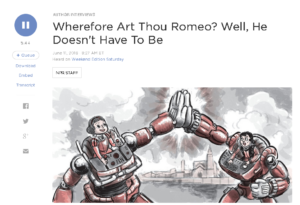 But first, thanks to Fleen Senior French Correspondent Pierre Lebeaupin for entertaining us all with lessons in effective French cursing during yesterday's self-inflicted charlie-foxtrot.
Let's do this.
Item! Ryan North has discovered that he is now a New York Times Best Selling Author in the category of Advice, How-to, and Miscellaneous¹. By the principle of transitive closure, this means that all of the artists who appear in the book are also now New York Times Best Sellers. Congrats, um, almost everybody Ryan knows! And in case that not enough major media domination for one day, please enjoy the audio of an interview that North did with NPR's Scott Simon last weekend. It's a hoot.
Item! Spike Trotman has shared with us the latest Iron Circus Book Pre-Announcement; we can expect these weekly for the next forever, and this week we find out about As The Crow Flies by Melanie Gillman, due in 2017. It's a story of faith and skepticism, serialized online in gorgeous pencils.
Item! They don't all work out. Dante Shepherd/Lucas Landherr put up a Kickstart last month to make the second iteration of calendars for his chalkboard-centered webcomic, Surviving The World. It failed to fund yesterday, reaching only about 53% of goal. Oddly, there are some numbers in the successful first calendar campaign and second that are virtually mirror images. See, calendar 1 had a goal (US$12K) that's about the same as the amount raised for calendar 2 (US$13,891), whereas calendar 2 had a goal (US$26,000) that was about the same as the amount raised for calendar 1 (US$24,686). Increased costs necessitated a rough doubling of funding to make the project viable, but if he could raise more than US$24K three years, why could he only manage about half that today?

Honestly, I think it's a case of success breeding success. He crossed the goal line about a third of the way through the campaign in 2013, meaning that everybody knew it was going to happen, and there's no sense of wasted effort to click a couple of times to back the project. Yes, I know, clicking a couple of times is hardly an effort, but we're talking about perception here. By contrast, this campaign had a much higher goal and although the funding was a bit slower at the start of calendar 2 than it was for calendar 1, it wasn't that far off. But having to make up twice as much money? I think it drove some people away because it looked tougher to reach.

People like sure things, and had that dropoff not happened, I think that calendar 2 could have made it. It's been a while since an established webcomic (particularly one with Make That Thing behind it) failed to fund, but realistically not every project is going to succeed. Nor should we take this as the start of a trend; right now it's just one data point. Then again, there's other projects out there which I would have thought would easily succeed (and in which I have pledges) that are still working towards funding, so maybe let's try to reset our expectations towards the positive. They won't succeed if they don't fund, they won't fund if people don't think they'll succeed, but the risk of trying is low so fund 'em if it's in your budget. If you don't, well it's on you if the world economy collapses is all I'm saying.
---
Spam of the day:
Want a New T-Shirt?
I know literally every vendor of webcomics t-shirts. I think I'm good.
_______________
¹ What? I mean seriously, what? Just put it in Paperback Trade Fiction where it belongs, New York Times. Although it's probably pretty satisfying to be on the same list as The Food Lab, What To Expect When You're Expecting, and that cleaning up for crazy people book.