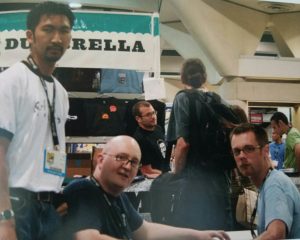 For the three of you that hadn't heard, Robert Khoo¹ resigned from the presidency of Penny Arcade yesterday; from other reports, it appears to be effective 15 July. I seem to recall that he's part of the trustee structure for Child's Play, and that he holds at 10% ownership stake in Penny Arcade Industries; no word yet on whether those have changed. Fleen contacted Khoo for and interview which he politely declined.
It has been some time since I sat in a Vegas buffet after the Reuben Awards and asked Robert what he was going to do when all the challenges of Penny Arcade were solved and he was just grinding in repetition — tropical beach with fruity drinks? High speed motorsports? A line of vanity soups?
I don't know, he said. Probably catch up with all the games I don't have time to play now. My suspicion is that we will learn what he's up to next exactly when he feels like letting us know; that guy always knows how to play three moves ahead of the rest of us. If I had to make a guess, I'd say he's got plans to run a venture capital-style business serving the games industry as a whole … either that, or secret volcano lair and demands made of the Security Council.
In other news:
We at Fleen are big fans of Vera Brosgol, since the old Return To Sender days [NB: only access that site via Wayback Machine, not directly], through Anya's Ghost, one of our favorite books ever. She's just had her next three books announced (scroll down, and it is me or does Publishers Weekly use subheads that sound eerily like Hollywood press?) through :01 Books and their sister imprint, Roaring Brook Press.

Roaring Brook will be up first, with Leave Me Alone!, a picture book about a grandmother's search for a little quiet, due out on 13 September; a second picture book will follow (presently untitled and no release date). :01 gets their shot with Be Prepared, a middle-grade graphic novel about summer camp, based on Brosgol's own experiences; again, no release date as yet. I'm going to go out on a limb and pre-announce that these will be terrific.

Speaking of :01 sister imprints: Farrar, Strauss, and Giroux will be publishing Compass South, the eagerly-awaited next graphic novel from Hope Larson (words) and Rebecca Mock (pictures) in about, oh, two weeks. The invaluable Oliver Sava at The AV Club has a six-page preview and brief overview today. Go look at it, it's very pretty and I'm already hooked on the story.
---
Spam of the day:
Asian Women Online — Am I Your Dream Love?
That's refreshingly straightforward for spam, but still ain't clicking.
_______________
¹ Robert is.