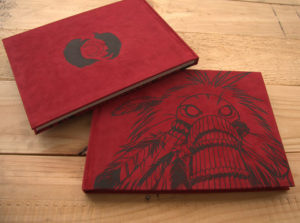 Lots of things going on today, so let's just jump into it.
Kelly Tindall has been around the webcomics game for a while, what with Strangebeard for three-four years now, and the diary comic Adventurers (which follows the everyday excitement that life offers when you're a kid; it starts with his daughter aged one year). The former got its first print collection a while back, and a campaign is running to do the same for the second now. It's down to the home stretch and right on the bubble of succeeding or not — which is something that happens to [web]comics projects every day, so why am I paying attention this time?

Short answer: Tindall's got some really cool friends who are supporting him. The foreword to the Adventurers collection will be written by Darkwing Duck creator Tad Stones, and every order will include mini prints by animator Elliot Cowan and comics legend Tim Sale. If creators that skilled like Tindall's work, you ought to give it a serious look.

Speaking of Canadian gentlemen in the webcomics game, Karl Kerschl has recently found time in his schedule to get back to The Abominable Charles Christopher and that means the story of our favorite big-hearted sasquatch (and all the side critters in the forest) is coming to an end. From Kerschl's twitterfeed:


50% off ALL Abominable Charles Christopher books! Gotta make room for the next volume! https://werehouse.ca/collections/brands/karl-kerschl …

Catch that? Next volume. I am clearing space on my bookshelf in anticipation already, but it's a hard decision as to what needs to go in order to fit in Charles Christopher's third hardcover. It might have to be the comprehensive reprints of The Spirit.

Still with the Canadian dudes, Ryan North is less than a week from the release of his second chooseable-path collaboration with some hack named Shakespeare, Romeo and/or Juliet. He's been running art excerpts over at his Tumblr (a tiny fraction of the illustrated endings and waypoints from some amazing artists), and on release day, he's having a party in Toronto:


REMINDER: I'm throwing a BOOK PARTY next week, with COOL ARTISTS, and you should come!! https://www.facebook.com/events/1602452860067750/ ..

That would be on Tuesday, 5:00pm to 8:00pm at The Beguiling, with a half-dozen of the contributing artists. I'm still collecting signatures from the artists in To Be Or Not To Be: That Is The Adventure, so getting a head start on that would be great if I could be in Toronto which I can't.

In case you don't love Rich Stevens enough, consider the following:


I don't actually remember when I started my comic, so I just celebrate Quitting Day

Dude knows what's important — the day you stop working for The Man¹. That day, bee-tee-dubs, would be today:

??? I just celebrated 14 years since quitting my job to do comics. Today is a good day to join my store email list! https://confirmsubscription.com/h/i/0FB98FB2EAA783F3 …

[Those three emoji at the start of the quoted tweet, which may not render for you, are captioned as Shortcake, Pile of poo, and Love letter, respectively. Dude also knows his brand.] Happy Quittiversary, Rich.

And finally, readers of this page know that I recommend what I like, and I don't expect you to plunk down cash on something that I don't feel is worth it; I won't ask you to lay out money or effort on something that I wouldn't. But today, I'm going to ask you for a small amount of effort that I can't do myself.

FedEx is giving out a series of grants to small businesses, chosen by popular vote, with winners getting up to US$25,000. Voting is open to anybody with a Facebook account, which never fails to annoy me when it's used as a universal identifier because not all of us have Facebook accounts, dammit. And by us I mean me and I know that makes me a weirdo.

But I'm sharing this with you anyway because I learned about this grant contest via Rosemary Valero-O'Connell (who I may have mentioned once or twice in the past couple of months), as she's part of a comic artists collective that's part of the contest.

You can vote for Out Of Step Arts by clicking here, once per day, until 13 June. As of this writing, they have fewer than 80 votes, and that is not going to cut it. If you've got a Facebook account, give a click, spread the word, and repeat for the next eleven days. Do it for the children.
---
Spam of the day:
Re: Your Current Debt
Is measurable only by scientific instruments that can see very, very small things. If you were really a financial-services firm you'd know that, wouldn't you, "Bridget from cardholder services"?
_______________
¹ Not that all iterations of The Man are as Manny as others. Case in point: Spike Trotman is no longer the sole employee of Iron Circus Comics.