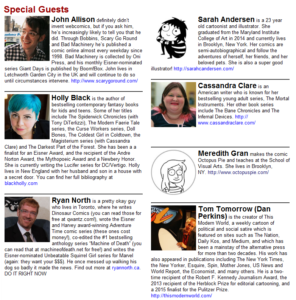 This one, as you probably suspected, tonight to the east of the East Village, in honor of Meredith Gran's fourth collection of Octopus Pie. The fifth will be the last, wrapping up the remainder of the series. It's not going to be long, and I urge everybody to start working through the stages of grief now to get a head start. Me, I'm still bargaining, figuring if I say enough nice things to Mer tonight she'll decide to keep at it.
Speaking of Meredith Gran, know where she'll be in October? I do:
TopatoCon would like to welcome special guests @cassieclare @granulac and @tomtomorrow !!! http://topatocon.com/exhibitors-and-guests/
Gran, Tomorrow, and Clare join previously announced special guests John Allison, Holly Black, Sarah Andersen, and Ryan North. Reminder that creators have until Friday to apply for exhibitor slots so get on that and I'll see you there.
---
Spam of the day:
Carlos Vives & Shakira in "LA BICICLETA"
On the one hand, I really don't know how I wound up on the distro list for a bilingual recording-industry PR agency; on the other, I think both bicycles and Shakira are pretty nifty. It's a dilemma.