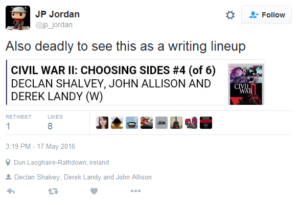 Attention (on projects past, present, and future) is being paid to webcomickers, and that it all meet and proper.
---
Spam of the day:
Poster & Release Date Announced: #TravelBoobs
It claims to be a forthcoming YouTube series, but I'm not clicking on anything in this email to find out.
_______________
¹ Want to stop feeling like the entire world is arrayed against you, Jameson? Maybe don't wear a friggin' Hitler moustache.
² Dare I say, whimsy?
³ Laura Dean Keeps Breaking Up With Me, words by Mariko Tamaki, coming from :01 Books in 2018 (whimper).