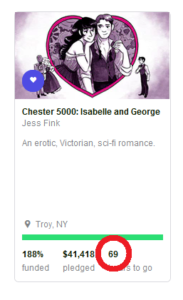 When I first checked social media this morning I was surprised when Twitter told me I had 456 unread tweets; usually an overnight is good for fewer than 200, given the number of people I follow and their sleep patterns. 250 would be a lot for one night, above that indicates something stupid happening in a Republican presidential debate that I didn't stay up for or somebody influential kicking it.
This time, however, it was down to one person — and if you're gonna do a serious tweetstorm, this is the one to do. [C] Spike [Trotman] has been on top of the Rat Queens brouhaha¹ and last night during her typical small hours worktime decided on a course of action:
In light of Rat Queens disappointing everybody: Women/NB creators, tweet me w/links to your cool comics starring tuff gals. I'll RT.
There was an immediate flood of responses and Spike made with the retweets, blowing up my timelines, pausing for a while to catch some sleep before resuming some hours later. I'd be hard pressed to estimate how many creators she retweeted, but I'd say probably in the vicinity of 200-300 before giving it a rest about eight hours later. Best of all? I recognized a mere handful of the comics that got the RT treatment (and by that I mean literally five), so there's a lot of new comics to check out.
Probably most of them aren't great, because most of everything isn't great. But I'll betcha there's 20 to 50 in that grouping that damn good to excellent, just waiting for anybody that's got the time to start collecting links. Anybody that's really enterprising could Storify the list; do it for the children.
In other news:
---
Spam of the day:
Stunning waterfront property in Michigan's majestic Upper Peninsula
Private setting with convenient location to ATV / snowmobile trails.
Translation: no roads, no utilities, you will die out here alone. Also, for a significant portion of the year, the Upper Peninsula is cold as fuck.
_______________
¹ Long story short — a comic about female empowerment had its original artist yanked from the book after a domestic violence arrest; other artists have since filled in. A hiatus announcement led to the current artist indicating she was removed from the book in favor of the original guy returning — meaning an abusive husband would again be drawing a book about women that don't put up with shit, yikes.
On a personal note, literally two days before the news broke I picked up Rat Queens trade paperback one on the recommendation of my niece and loved it, having been unaware of the unsavory reputation of the original artist, and was planing on purchasing the second and third collections but now I'm not sure.
² Who is his own evil twin, or at least his own dark reflection. Which one is more like Batman?
³ He was kind enough to send me one — it took up so much space on my desk. This is not a tiny page-a-day, it has heft and also terrible jokes.