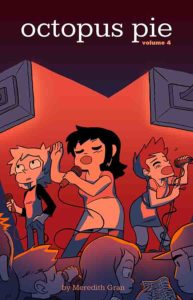 … and I'm going to have to drive through it up ol' I-95¹. Let's make this brief.
Over the past three months, the full run of previously-published Octopus Pie (by Meredith Gran, who remains Best At Comics) has been republished by Image in three handsome volumes; in a little less than two weeks time, the fourth book in the series — never before published material! color! — will hit the shops and Gran's having an event to celebrate:
I'm hosting a pop-up event for the release of my new book, Octopus Pie Volume 4!

This is the first time in years that brand new OP material has been in print, and I'm damn proud of this book and hope you would like a copy! They will be for sale at the event, in addition to Volumes 1-3, a bit of TBA merch, and original comic art on the walls!
That'll be on Wednesday, 25 May (release day!) at Creations Gallery, 89 Avenue C (corner of East 6th) in Manhattan, from 6:00pm to 9:00pm. You can RSVP at the Facebook event page (which I would do except I'm not on Facebook — Mer, barring disaster I'll totally be there), and come enjoy some Good Times.
And a few days after, Octopus Pie will be considered for the Online Comics — Long Form division award from the NCS at the Reubens weekend in Nashville; Gran's got some formidable opposition in her category, but I think with some luck and gumption, she'll wake up the following day a Broadway star!
I may have gotten a little ahead of myself there, but for reals — tell your local comic shop you want a copy of Octopie 4 because it's full of great comics.
---
Spam of the day:
Hi my name is Emily and I just wanted to send you a quick note here instead of calling you.
Who the hell are you and how did you get my number.
______________
¹ If I don't make it, tell KB Spangler that I died in battle with her nemesis.