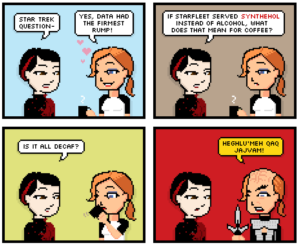 I refer, naturally, to this Diesel Sweeties strip from a week or so ago; I'm sure anybody that's watched the last few iterations of Trek intuitively knows what the punchline is¹, I'm just surprised that Rich Stevens didn't render it in plqaD script, but if you want to read Maura's line in the original you can do so here.
Yes, that entire thing amused me enough to mention it after my time away. Deal.
In other news:
TopatoCon 2 (The TopatoConenning? Electric TopatoLoo?) exhibitor and volunteer applications have been up for a while now, and although the show is still five months away, the first cluster of guests has been announced:


Topatocon would like to welcome special guests @ryanqnorth @badmachinery @SarahCAndersen and @hollyblack !!!

The Toronto Man-Mountain needs no introduction; John Allison appears on this side of the Atlantic about once in forever; Sarah Andersen's got a first book is out now, and Holly Black is both a hell of a YA author and a mean cocktail-mixer².

Okay, I lied — said Man-Mountain does need an introduction, as it was announced yesterday that Ryan North is now — in addition to his scripting duties on The Unbeatable Squirrel Girl for Marvel — taking over writing duties on Jughead from Chip Zdarsky with issue #9. At the same time, his Squirrel Girl art partner, Erica Henderson will be turning over the Jughead art duties to Derek Charm. Quite a comic book authoring resume our Mr North is building.

Oh, and if you weren't smart enough to back North's first pickable-path Shakespeare book, you might not have noticed that he's live-playing through the start of his next pickable-path Shakespeare book in the updates of the Kickstart for the last one. So far we've determined that Juliet is ripped and is very possibly curious about rooster testicles! Romeo and/or Juliet drops in just about a month on 7 June.

So I told you I was going to be keeping an eye on Rosemary Valero-O'Connell last month; she's not disappointed in the weeks since with the work she's either announced or shared with us. That streak kept up yesterday, letting us see part of her senior thesis³:


The prologue pages of Black Sun Rising, my senior thesis, are now available to read! http://livertaker.tumblr.com/post/144164545963/a-preview-of-the-first-chapter-of-black-sun …

It's gorgeous, it does a bang-up job setting mood and expectations (with more than a bit of Emily Carrollesque dread), and makes me want to read far more than these four pages. Rosemary — however long this comic is, find a way to print it in a handsome presentation, mark it up about four times, and sell it to me (and all other right-thinking folk). There is no mathematical possibility that the rest of this story isn't excellent.
---
Spam of the day:
Cadence Williams (Google Team) sent you a message:
You know, the fact that you sent me this spam at Google's own email service but that it doesn't have a Google return address? Makes me a mite suspicious.
_______________
¹ If not, you can type Heghlu'meH QaQ jajvam into the Bing Translator (but it doesn't autodectect tlhIngan Hol).
http://yellowantphil.com/pIqaD_converter.php
² Assuming we do a drinks competition again this year like last year, I'd want Black, the reigning 86d! champion, to either take a judging role, or join me in hosting/commenting duties.
³ Yep, she's just now graduating college and this makes her less than half my age and already so very skilled. She's only going to get better.