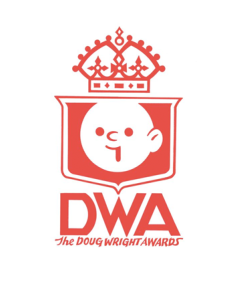 Let's just wrap this one up and get to the weekend without anything else happening, okay?
The Doug Wright Awards released their annual slate of nominations, and as in years past I am astonished — in a good way! — that an award program meant to recognize the best of an entire country can get by with only three categories. Given the marathon slogs that many awards presentations can be, this is a refreshing change, and the organizers have put together yet another thoughtful collection of nominees; to wit:

Best Book

Spotlight Award (for cartoonists deserving of wider recognition)

Pigskin Peters Award (recognizing experimental, unconventional, and avant-garde comics)

Drawn + Quarterly is the dominant publisher of nominated works with six of the total works and five in the Best Book category; Beaton continues her march of many, many nominations for Step Aside, Pops, and Rebecca Roher's Mom Body is yet another highly-regarded comic first published at The Nib. Best of luck to all the nominees; the Doug Wright Awards will be handed out on Saturday, 14 May at 8:00pm in a ceremony that's part of the Toronto Comics Art Festival.

Speaking of TCAF, which is a free-to-attend festival celebration of comics, there's several other free-to-attend festival celebration of comics in the news: Alaska Robotics Mini-Con kicks off in Juneau, Alaska in the Mendenhall Valley Public Library at 6:30pm local time, continuing tomorrow at the Juneau Arts & Culture Center from 10:00am to 5:00pm. But wait! There's more!

Vancouver Comics Art Festival runs next month, 21 and 22 May, at the Roundhouse Community Arts & Recreation Centre. And TopatoCon 2016: The TopatoConenning, has just opened up applications for exhibitors and volunteers for 22 and 23 October, in Easthampton, Massachusetts. That's four cities, two coasts, one Great Lake, two countries, and more great comics than you can shake a stick at. Start saving gas and/or bail money and make your way to the appropriate venue for Comics Fun Times.
---
Spam of the day:
Discover Bathtub
I expect the next email to say I don't know how to discover bathtub and something about grues.