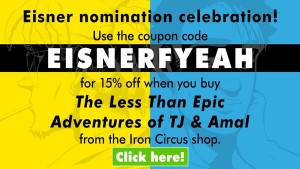 Kind of all over the place today, from the serious and sincere to the … well, you'll see in a moment.
Okay, real talk time. The Kickstart for the long-awaited first print collection of Irregular Webcomic followed a pretty standard steep start and long tail, but the tail has been lower than usual, and it's starting to look like it's going to be a near thing. 70% of the way there with about 72% of the campaign time gone means that the traditional spike upwards in the last week puts everything to rights, but creator David Morgan-Mar is unwilling to leave things to chance and is engaged in desperate measures: he's added me as a backer reward.


I will be in New York City on Saturday 18 June this year. With this reward you and one partner/friend can meet me over lunch, talk comics or whatever, and get some spur-of-the-moment hand scribbled comic art by me! I'll also bring along some random physical goodies related to my comics to give to you! This reward is an approximately 2-hour lunch meeting, and you also get a printed copy of the book, a PDF copy, an MP3 of "It's Quite Irregular", and a set of postcards.

Two backers plus two friends plus me makes 5 for lunch, and also joining us will be webcomic blogger Gary Tyrrell of Fleen.com. [emphasis mine]

There's already a pledge to meet up with Morgan-Mar in London later this year and I'll be crushed — crushed! — to think that I'm not an equal draw. Also, it's no secret that I want this campaign to succeed, but any rumo[u]rs going around that I will be engaging in "favors" for the pledgers are probably overblown. Probably. Only one way to find out!

For those who've been waiting patiently since January for the opportunity to join iPhone-havers and play Exploding Kittens on your Android phones, wait no more. Seemingly in dual celebration over this release and yesterday's announcement of an Eisner nomination (his third or fourth, I think), Oatmeal creator Matthew Inman has been crushing all rivals in EK matches today.

You probably can't beat him (he's been playing the game since long before anybody else in the world, remember), but if you want to try watch his twitterfeed for announcements of when he's playing and the game code. Good luck (you won't win).

Speaking of Eisner nominations, Iron Circus Comics President For Life¹ Spike Trotman has declared a day of jubilee to celebrate the fact that her very first solo artist project — EK Weaver's TJ and Amal omnibus reprint — took a nomination for Best Graphic Album — Reprint. You can get the TJ and Amal omnibus from the Iron Circus shop for 15% off with the coupon code EISNERFYEAH. Go cash in, you lucky people.
Lastly, the sort of thing that I like to see because it has the potential to make people better, more thoughtful creators: KB Spangler of A Girl And Her Fed² has posted a piece on how she approached writing a character that started out minor and became a major part of her story mythos, and how she's changed her approach after realizing that she was Doing It Wrong. Specifically, Spangler's take on Rachel Peng's arguably defining characteristic — her blindness — was initially done without (in retrospect, and certainly not from a point of malice) insufficient consideration of what being blind actually means.

And before a theoretical subset of you start screaming about PC goons forcing a creator to change her story — honestly, if that's your first thought, the door's over there and don't let it hit you — it's not in response to anybody yelling at Spangler other than Spangler. It's about having the honesty to assess when you have sufficient experience in a community/culture to represent it properly, and when you have to shift your approach because you realize you didn't. As Spangler repeatedly states:

I'm an asshole but I'm trying to do better

The first part of that statement is a filthy lie, but the second part you can take to the bank. Even if you're inadvertently an asshole (or not an asshole at all), you can always do better if you're willing to admit there's better to be done. Go read it and think about how to do better yourself; and if there's better I can be doing, please let me know.
---
Spam of the day:
Join our professional network
No name for this professional network? Nice try, LinkedIn, but you ain't getting your hooks in me!
_______________
¹ And co-founder of Creators For Creators; application info coming in ten days.
² AKA my buddy Otter.