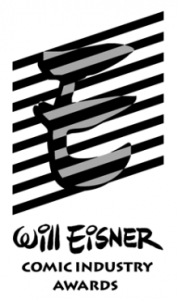 There was stuff I was going to go into today, like the announcement that Steven Universe creator Rebecca Sugar is adapting a key plot into childrens book form or that in the run-up to the relaunch of The Nib, Matt Bors is sending out comics in email newsletter form, and Chris Yates is marking twelve years of making Baffler!s. Then the Eisner nominations came out and that kind of swamps everything.
Because webcomics people — and those that came up from webcomics, or run their creative endeavours like webcomics, or likewise have that independent, creator-owned bent — are all over the damn list this year. But there remains a persistent question around what should be the point of greatest interest to readers of this page, namely, what the hell remains up with the Best Digital/Webcomic category? From the FAQ:
For the Best Digital Comic category, works must be longform—that is, comparable to comic books or graphic novels in storytelling or length. Webcomics similar to daily newspaper strips, for example, would not be eligible. Digital comics should have a unique URL, be part of a webcomics site, or otherwise stand alone (not be part of a blog, for instance).
… which seems to be inconsistently applied at best. Most notably, this year in the entirely worthy-of-consideration Lighten Up by Ron Wimberly, as seen at The Nib. It's six-and-a-half screens tall, each four panels in size; it's not comparable to either a comic book or graphic novel in length or storytelling. It's excellent, and I'm glad it's up for consideration, but there are been dozens — hundreds! — of comparably excellent works that have not been considered for the nomination because the criteria are used to exclude them (except when, as in this case, they're not). The NCS, for goodness sake, is doing a better job of consistently applying criteria in a way that makes sense¹.
It does a disservice to the nominees to be nominated in such a chaotic fashion, especially considering the quality of the other nominees: Bandette (Paul Tobin and Colleen Coover, Monkeybrain/comiXology); Fresh Romance (edited by Janelle Asselin, Rosy Press/comiXology); The Legend of Wonder Woman (Renae De Liz, DC Digital); These Memories Won't Last (by Stu Campbell).
Not all of those are what we at Fleen would consider webcomics (after all, that's not the name of the category), so it's probably time to scrap the not particularly useful category and just let webcomickers compete in the other categories oh wait that's exactly what they're doing:
Best Short Story includes It's Going to Be Okay (Matthew Inman); Best Continuing Series includes Bandette and Giant Days (John Allison, Lissa Treiman, and Max Sarin; nice job nominating both artists); Best New Series includes The Unbeatable Squirrel Girl (Ryan North and Erica Henderson); Best Humor Publication Cyanide & Happiness: Stab Factory (Kris Wilson, Rob DenBleyker, and Dave McElfatrick) and Step Aside, Pops (Kate Beaton).
Continuing: Best Anthology includes Eat More Comics: The Best of the Nib (Matt Bors, editor; includes Lighten Up); Best Graphic Album — Reprint includes The Less Than Epic Adventures of TJ and Amal Omnibus (EK Weaver, via Iron Circus Comics Kickstarter campaign) and Nimona (Nicole Stevenson); Best Writer includes John Allison (for Giant Days); Penciller/Inker or Penciller/Inker Team includes Erica Henderson (for Jughead and The Unbeatable Squirrel Girl); Best Painter/Multimedia Artist includes Colleen Coover (Bandette again … that's three so far).
Finishing up: Best Lettering includes Lucy Knisley (for Displacement); Best Publication for Early Readers (up to age 8) includes Anna Banana and the Chocolate Explosion (Dominque Roques and Alexis Dormal) and Little Robot (Ben Hatke), both from First Second; Best Publication for Kids (ages 9-12) includes Baba Yaga's Assistant (Marika McCoola and Emily Carroll) and Over the Garden Wall (Pat McHale and Jim Campbell); Best Publication for Teens (ages 13-17) includes SuperMutant Magic Academy (Jillian Tamaki)².
That appears to be eighteen nominations outside of the Digital/Webcomic dumping ground for webcomickers and webcomicker-alikes, which is surely a record. At least, last year I was astonished how many webcomickers and webcomicker-alikes were nominated and there were a total of eleven. Progress, she is gradual sometimes, but she is relentless. We'll see how it all turns out when the Eisners are handed out on Friday, 22 July, at SDCC.
---
Spam of the day:
livesex cams "[…]Fleen: The Elcoertnic Swiss Army Knife For This Topic » "
If there are cameras broadcasting Fleen World Headquarters to people expecting live sex, I sure hope they get their money back.
_______________
¹ Obligatory disclaimer: I have been involved in the NCS selection process each year that they've recognized webcomics.
² I removed nearly every publisher reference in this rather extensive list for space, but I'll note that BOOM!/KaBOOM!/BOOM!Box are represented out of proportion to their relative size in the industry. Maybe with all this recognition they can expand their distribution/sales and afford to pay some non-sucky page rates.