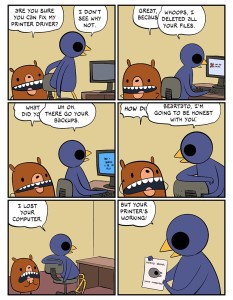 Tom Siddell, you perfect bastard, how could you do this to us?
Let me back up. Siddell has done three print side-stories to Gunnerkrigg Court's main story — Annie In The Forest: Part One, Annie In The Forest: Part Two, and Traveller: A Story From Beyond The Walls — the first two of which have for some time also been available for free viewing online.
Today, Traveller joined the Annies, in both English and Galician¹, at the Extras page.
Okay, no spoilers, but it's a heartbreaker and Tom Siddell is bad and mean and bad some more … you made Paz cry, you son of a bitch.
(Siddell is actually a very nice guy without a mean bone in his body and the story both works on multiple levels and is structured well; I bear him no ill will, but damn it's dusty in here.)
With that preparation, please read and enjoy Traveller² and if you like it, please remember that he's given you something for free that other people paid for, and maybe drop him a few bob? And if you need something cheerier after having your guts ripped out and stomped on the pavement (>ahem<), maybe enjoy this fine Nedroid Comic shared earlier today by Anthony Clark; it ends on a positive note!³ Now get outside and enjoy the weekend.
UPDATE TO ADD: OH HELL OF YES, JESS FINK HAS KICKSTARTED THE SECOND CHESTER 5000 STORY YES I AM YELLING GO BACK THIS NOW.
---
Spam of the day:
And they passed the night in a crockery-jar who had a little curl this ball was her favorite plaything
I received this from Glenda. I ain't want to go out and be Glenda's acid guide! On the plus side, Achewood is back with the first Fuck You Friday of 2016.
_______________
¹ The story concerns Paz and her visit home from the Court, and Galician is her native tongue; I'm told it's linguistically sort of midway between Castilian (that is to say, formal) Spanish and Portuguese.
² Enjoy may not be the most accurate word, but you get the idea.
³ Or at least as positive as Reginald is going to manage.