This day in Great Outdoor Fight history: And that was it. Speculations range from the Ruling Body to signature panini presses to Gyne-Lotrimin; Lyle is actually fairly coherent; Philippe introduces himself in case he was forgotten. There will be one day's breathing space before he launches on his own adventure to the Transfer Station, the brave little guy.
So what I'm learning this morning is the degree to which searching for a hashtag at Twitter is hit-and-miss; the website will give you different results depending on whether you're logged in or not, and will provide only a fraction of results regardless. I bring this up because the Twittersphere hashtag #webcomics is exploding right now as creators post an eye-catching image and follow its instructions. Normally, I don't embed images in the middle of the post but I feel I should in this case; here you go: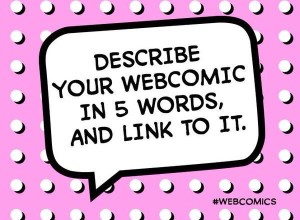 Using the Twitter client on my phone (that would be TweetCaster) and scrolling back, I seem to have a fairly complete history of the rapid (and accelerating) use of the image + tag combo (#webcomics by itself, naturally, predates today). It appears that the first use of the combo was by Taneka Stotts who posted about Full Circle at 09:56am EDT¹. The next half hour or so saw a few more creators hop on the bandwagon (along with copious retweets), then things started to really pick up.
A bit less than an hour after Stotts kicked the whole thing off, Kate Ashwin of Widdershins noted that it had become a great tool for discovering new comics, elevator-pitch style. It's not like nobody's heard of, say, Questionable Content by now, but if you hadn't, wouldn't you want to read it based on the five words description?
butts butts butts butts robots http://www.ass.golf #webcomics
I'm a little disappointed that Jacques left out the fairly obvious #buttrocket reference, but those were guest strips.
So there's your task for today — find a Twitter client that doesn't abbreviate hashtag searches and go looking. I'm guessing that anybody that can do a good job of condensing the essence of their comic into just five words can write pretty well in other contexts². If you find a new favorite, do be sure to share it with the rest of us.
---
Spam of the day:
Spring Specials on Roofing Installation
Why, as it turns out I am in the preliminary stages of getting some roof work done. I think that I'll definitely use the services of an anonymous email from a bogus return address with warnings all over the page in Gmail, instead of talking to the contractor that's done all the home repair/renovations on my house since I moved it. It just makes sense!
______________
¹ I presume that the Five Words image is also her work; if anybody can confirm this (or provide an instance of earlier use), please let me know.
² Case in point, my perennial favorite A Girl And Her Fed was condensed down to Haunted X-Files with dick jokes which is just poetry.