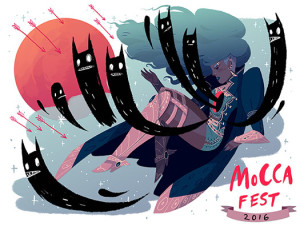 This day in Great Outdoor Fight history: No strip; we may imagine Beef and Ray tearing down the road, not yet able to form words.
MoCCA Fest is next weekend, and I'll be seeing you there, yes? For those who've missed the new, the Museum of Comics and Cartoon Art Festival (presented by the Society of Illustrators) is off tow its third venue in as many years (and its fourth overall), but the SoI folks know how to put on a show and I suspect this one will be as good as the last few, which keep getting subtly better. We've seen news about the venue, the show poster, the Guests of Honor, and the programming, so let's talk about exhibitors that will be there. As usual, I've probably missed a few, so let me know of any necessary corrections.
Lastly, for any that have energy left over after a first day that's likely to be packed full, SoI are sponsoring an afterparty/awards ceremony from 7:00pm to 11:00pm on Saturday night, although you need to be an exhibitor, volunteer, Guest of Honor, or otherwise VIP to get in. Fun starts with free beer from Flying Dog Brewery until it runs out (cash bar afterwards) and a small plates buffet; the MoCCA Fest Awards of Excellence ceremony starts at 8:00pm.
Keep in mind that the SoI dates from a time when a skilled trade like illustrators could purchase a fancy-ass building for their headquarters, and they've got a century's worth of neat stuff on display. If you can go, I'd encourage you to do so; if you can't, I'll see you on the floor.
---
Spam of the day:
topkitchenremodeling Gorgeous Kitchens – Check it out.
No comment.