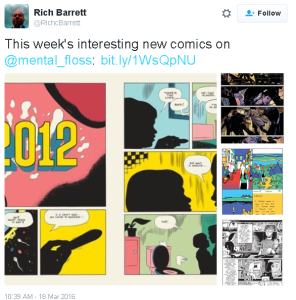 This day in Great Outdoor Fight history: No strip, leading to the mother of all pregnant pauses.
And with it, the possibility of friggin' snow. Let's just do this while we still have the illusion of an approaching spring.
From Nilah Magruder, an eagle-eyed catch of a chance for webcomickers to get some notice in the broader pop culture:


Hey webcomic creators send your webcomics to @RichcBarrett so he can review them for Mental Floss.

In reference to a plea from the comics writer for Mental Floss:

I wish more people would send me links to the cool webcomics they make so I can write about them. I've gotten bad about finding them myself.

Webcomic creators just don't do as much PR as they should I guess.

I'm getting lots of great responses about this. Lots of webcomics to check out. Keep them coming.

Tweeted last night that I wish webcomic creators would promote their comics to me so I can write about them. Woke up to a deluge of links.

I used to be good at seeking out webcomics myself but it gets hard finding time as I'm getting tons of other types of comics sent my way.

Webcomics are such a deep and varied world of comics. It's hard even for me, much less a casual reader, to know where to even look.

Thanks for kickstarting the response, Ms Magruder! You can see her next weekend at WonderCon in LA, Artists Alley table G-26.

Speaking of Kickstarting, two new webcomics fundraisers went up earlier to today: Tony Breed is looking to fund the first collection of Muddler's Beat (it's so good you guys) with the assistance of the fine folks at Make That Thing, and Brad Guigar is funding the ninth Evil, Inc collection (if my math is correct, he'll have another three to go before he hits the recent reboot, so keep room clear on your shelves).

They're both just into the low tens of backers and about 10% to the their respective goals, but please note that Breed is only granting himself a two week window to fundraise, so there's a bit more urgency there. Put 'em over the top, won't you?
---
Spam of the day:
Implant-Settlement
Are you saying I've got one of those alien implants? Cause I sure don't have any other kind.