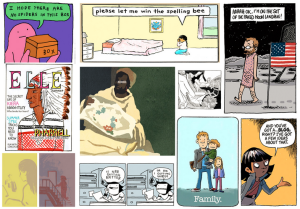 This day in Great Outdoor Fight history: Two cats have taken their time going to the snack tent to retrieve some brandy of the gets-the-job-done variety. We'll pick up with them when they get back.
I think that what I like best about the small-to-medium sized comics shows is the fact that they actually feature comics. So it's with that in mind that I brin gyou news from three such festival-type shows that you'll be paying attention to in the coming weeks and months, and one prize that draws from the same creator cohort.
First up, MoCCA Fest has announced its slate of programming for the 2-3 April show in Manhattan; as was the case last year, panels and programs will be offsite, but included in the cost of your US$5 ticket. Highlights include a Sonny Liew Spotlight (12:30pm on Saturday), Cece Bell on El Deafo (2:00pm Saturday), Making Comics for Younger Readers (with Noelle Stevenson and others; 12:30pm on Sunday), and a Rebecca Sugar Q+A (2:00pm on Sunday). Best of all? The meeting rooms are actually named Helvetica and Garamond.
Nextly, TCAF has announced four more featured guests, who you'll find the weekend of 14-15 May. If it seems like three is a small number, consider:

They were specifically invited to appeal to kids
There were already Kids Guests announced like Kate Beaton and Faith Erin Hicks
This brings the total of confirmed guests to more than two dozen
They are superstars Alex A (Super Agent Jon Le Bon), Kazu Kibuishi (Amulet), Dana Simpson (Phoebe And Her Unicorn), and Raina Telgemeier (the entire damn comics industry; Sunday only)

The second half of the SPX exhibitor list — the part decided by lottery — is starting to fill in, as news is being shared around the Twittersphere about who got in and who didn't. The list will be fluid for some time, with table payments not due for another month, and then backfills taking place between now and the weekend of 17–18 September. Please note that the Exhibitors link at the SPX site is still showing the 2015 lineup, but expect that to change in the next couple of weeks.
The Center for Cartoon Studies and Slate have announced the shortlists for their annual Cartoonist Studio Prizes. As in past years, there are ten nominees from the world of print comics, and ten from webcomics. As in past years, there are single-shot stories and ongoing series — length, genre, topic, style, audience age, and all the other qualifiers that usual divide nominees into many categories have no place here, only the strength of the work. As in past years, one nominee from each list will be recognized (announcement due on 6 April), and get both bragging rights and — uniquely for comics prizes — a thousand damn dollars.

Pretty much everything that I saw on the lists that I recognized I nodded Yeah, that makes sense, and I don't see any particularly weak or surprising nominations. It's worth noting that D&Q and Fantagraphics dominate the print category, and that three of the webcomics nominees were commissioned by Matt Bors for The Nib before it shuttered its doors halfway through the year, or for its short-lived followup, The Response; I've no doubt that if Bors had a full 12 months in 2015 to play with, we'd see more on the list.
---
Spam of the day:
Check out the profiles of over 30,000 Russian babes. Make these Russian girls fall for your charm.
Okay, nothing special there, we've seen this particular flavor of spam before. What propels it into the realm of genius is the name of the alleged sender, Olga. Olga Contrabasist. That is sheer goddamn poetry.
Heck, I'm in a good mood, let's do another one!
Signs of a Fatal Heart-Attack

I'ma go out on a limb here — 10 year veteran EMT and all, you pick these things up — and say the most distinguishing sign of a heart attack that is not merely damaging but fatal, would be the part where you're dead.