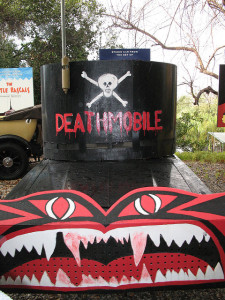 This day in Great Outdoor Fight history: Ray is tired from his rampage and shivering from the cold and loneliness. Some nights are longer than others.
Hell, no! So why should the Cartoon Art Museum stop doing cool things just because The Man says they don't have a gallery space anymore? Become the ruling body, dude!¹ Or at least check out what CAM has coming up in the next few weeks.
Next weekend, CAM will be heading down to the South Bay and the inaugural Silicon Valley Comic Con in San Jose. Curator Andrew Farago will be interviewing Norm Felchle (he works on Spider-Man, Mick Gray (Batman and Robin, Alex Sheikman (Moonstruck), and Ryan Sook (Hawkman and a stack of Buffy titles) in a panel discussion, 10:00am on Saturday the 19th.
A week later, they'll be at WonderCon at the LA Convention Center; this time it'll be Program Coordinator Nina Kester doing panel duties with Comedy in Comics, on Sunday the 27th from 11:30am. Guests will include Kyle Baker (Plastic Man, Why I Hate Saturn, The Cowboy Wally Show, and many more), Ming Doyle (DC Bombshells), Francesco Francavilla (Afterlife With Archie), Agnes Garbowska (My Little Pony), Joe Quinones (Howard the Duck, having to put up with Chip Zdarsky), and Raina Telgemeier².
June 18th and 19th will see the third annual Queer Comics Expo at the SOMArts Cultural Center in San Francisco, which will also serve as a fundraiser for CAM. In fact, they're looking for people that want to be part of the fun, with applications for QCE programming, volunteers, and exhibitors open through 31 March. Table rates range from US$15 to US$50 (half or whole, one day or both) and exhibitors can get the application details via qcexpo.tumblr.com/exhibitors.
I can think off the top of my head about a couple museums that do less than this in a year, much less in a couple of months while also juggling a major capital fundraising campaign/real estate search. They're good folks over at CAM, and you ought to take one of these opportunities to go see 'em. Drop a couple bucks in the donation jar while you're there.
---
Spam of the day:
Look 20-Years Younger: Celebrity Method Revealed
Man, I already look 10 years younger than I actually am (and the entire insurance industry apparently thinks I qualify for Medicare, which event won't happen until the 2030s); if your miracle goop makes me look another 20 years younger, I'm never going to get a drink again.
_______________
¹ I appear to have mixed my metaphors somewhat.
² Do I really have to tell you what she does? Read literally any week of postings here and you'll come across her.