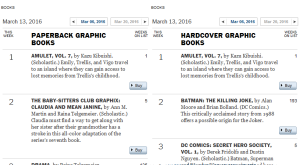 This day in Great Outdoor Fight history: No strip; Ray is napping off all those sporkfuls (sporksful?) of Christian Brothers.
We had a bit of snow earlier today, but it's melting off in the sun. Let's talk about what the deals are, and head into the weekend.
Kazu Kibuishi is no stranger to the New York Times Best Seller list, and if he spent less time at #1 for Amulet volume 6 18 months back, well, that's probably because Scholastic made the inexplicable decision to release it on the same day as Raina Telgemeier's Sisters¹.

But Kibuishi's done something that I can't recall seeing before: he's debuted Amulet volume 7 at #1 on both the hardcover and softcover lists; given the cliffhanger that this book ends on², expect to see it pop back up when the eighth volume releases sometime next year.

Hey, you know who else is no stranger to the Times Best Seller list, but who hasn't done a book for — goodness! — nearly five years? Vera Brosgol. She's been busy as heck with Laika Studios, contributing to some of the most original and imaginative films in decades. But we'll be seeing more of her own work soon:


Today is my last day at Laika. I'm leaving to work on my own projects! I will miss these guys so so much. T_T

Brosgol was one of the first people I met in webcomics, before I started blogging even, back when Return To Sender³ was still updating, and I've adored her work from the beginning. Leaving a place of tremendous creativity (the sort that's got to rub off on you) to work on her own stories again? This is the best possible news.

Mark your calendars for the tail end of October:


What if I told you to mark October 22-23rd on your calendar, because those are the dates of TopatoCon 2016? WHAT IF

I would say Yes, please and start scheming as to how we could make last year's competitive drink-making session even better. I made a drink in a pineapple, people, and kept up the small talk while competitors wrangled ingredients, the kindest of which was pop-boba. What would make for a good successor? An Iron Chef type format4? Something more educational? More samples? Answers on a postcard, or at least in the comments below.

Speaking of conventions, a schedule change to this weekend's In-Store Convention Kickoff: Jim Zub and Nathan Fillion/Alan Tudyk will be swapping timeslots, with the former now at 4:40pm and the latter at 6:30pm (all times EST). Please adjust your day planners accordingly.
---
Spam of the day:
Protect Against Identity-Theft
I suppose you mean to educate me by means of direct experience, seeing as how Gmail has helpfully labeled your email with Be careful with this message. Similar messages were used to steal people's personal information.
______________
¹ Which remains on said list to this day, 78 weeks later, along with Drama (135 weeks), Smile (194 weeks), and the latest Baby Sitters Club reissue (5 weeks). She's released her 70% stranglehold on the list, but I make it even money she regains it and possible pulls off the eight-peat once Ghosts releases in the fall.
² And it's evil, I tells ya; the story is also so full of major twists and turns that I don't know how to review it — even with my usual warnings of spoilers — without recounting the entire damn thing in detail. Suffice it to say that Kibuishi has lost none of his chops, has kicked the story into even higher gear than it was, and guaranteed that the wait for the last two books of the series will be the longest wait in the lives of his many fans.
And when volume 9 finally hits, I'm taking a day to re-read the entire thing at once. It'll be glorious.
³ Since shuttered, and the domain obtained by persons of low intent. Only browse via Wayback Machine, and go no further than 2006. Some day, Often and Colette will reveal the rest of their story to us; in the meantime, they live in my heart and memory.
4 If we can figure out some way for me to shout allez biberonner, I will die a happy man.