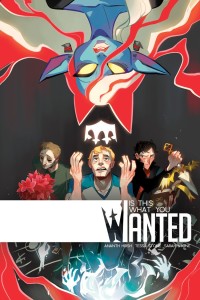 This day in Great Outdoor Fight history: No strip; I believe that Sound And Motion is getting up from his Downward Dog or some such.
It's nearly the weekend and by way of advance notice, the next couple of weeks look to be a little weird. My teaching schedule next week will be to accommodate students who are variously located in Holland, India, and Australia. The week after that is jury duty (one day or one trial; really hoping for the former). Starting the week after that will be a fairly lengthy period of travel. Apologies in advance for any interruptions.
However, the day I anticipate sitting around in a room waiting to find out if I'm part of a jury, I intend to catch up on some reading. Stacked up and waiting to be read: no fewer than four review copies from the good folks at :01 Books (by Ben Hatke, Tony Cliff, Faith Erin Hicks, and James Kochalka¹). I've also got a PDF of the second part of Sophie Goldstein's House of Women (the first part of which garnered a 2013 Ignatz), which Ms Goldstein was kind enough to send along. Everybody else in the jury room can stare glumly into their phones, I'ma get my comics on.
I've expressed this before, but I really need to learn to draw one of these days. And, were I not on jury duty, I just might spend that week in San Francisco² seeing as how the Cartoon Art Museum is kicking off their latest education program on Thursday, 3 March, at 7:00pm. To be more specific, Mark Badger will be running a class on drawing, in conjunction with CAM, each Thursday night in March.

Mark Badger's Just Draw is for older teens, adults, runs two hours per session, held at the temporary educational space in the Renaissance Entrepreneurship Center at 275 Fifth Street. It'll cover everything from four-page minis to the four hundred page magnum opus, with a veteran cartoonist/teacher (thirty years and fifteen years, respectively) for the low, low price of US$200 (US$175 for CAM members), with enrollment available here.

Now that the thirteen part travel halfway round the world and get married epic is done at Johnny Wander, Ananth Hirsh and Yuko Ota are getting ready to drop their next project on us, and it looks like a doozy. It's tempting to think of them as one Voltron-like single entity, but they are actually separate people! And sometimes they work on their own projects! And starting Tuesday, the latest of these will begin serialization. Let's let Hirsh tell us all about it:


Beginning next week we'll be running the first chapter of IS THIS WHAT YOU WANTED, a comic I've been collaborating on with Tessa Stone and Sarah Stone! I've worked with Tess previously on BUZZ!, a graphic novel about full-contact spelling bees (available through Oni Press). Tessa currently does Not Drunk Enough, and Sarah Stone has worked on a huge range of projects, including Transformers: Windblade!

We'll be running the first chapter on Johnny Wander, at which point the comic will migrate to its own website. The first four pages will run on Tuesday, and then we'll post a comic per update like normal.

One chapter to get us hooked, eh? I'm onto you, Hirsh, and if your previous collab with Tessa Stone wasn't so good, I'd be getting the hell out of here before you got your greedy hooks in me. But BUZZ! was good — very, very good — and so I'm willingly coming back to you. I trust you'll make it worth my while.

And, from Fleen Senior French Correspondent Pierre Lebeaupin:


Sorry, it turns out my reference for [the end of Notes on paper](http://fleen.com/archives/2016/02/17/happy-returns-of-the-day/) was outdated, as more recently Boulet indicated that « [Volume 9 was a "pentimento" after I planned to stop after volume 8](http://www.bouletcorp.com/#answer54) » and that he even had extra pages that would end up in a volume 10, where we are today. It is probably best to consider each volume of Notes as being potentially the last, while leaving open the possibility of future volumes, much like these singers who always claim this is their last tour but can't seem to actually bring themselves to stop.

Duly noted; on the plus side, we're gonna get several hundred pages of Boulet, so that's all right. Have a good weekend, everybody.
---
Spam of the day:
Keep your bait possibilities different by pking a couple dozen leeches just in case.
Gotta say, leeches are a welcome respite from the slutty moms in my area that want to have sex with me. Pretty sure that combination of words has never been uttered in any context throughout human history.
_______________
¹ Which is in all likelihood the greatest book in history.
² Okay, not really — if I don't get picked for trial, I have to head to Dallas for work later that week.