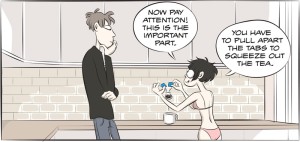 What a week, what a week. Let's recap the things that have happened and call it.
This day in Great Outdoor Fight history: No strip. Ray's probably dealing with his hat guy to ensure he has the proper hat, and he and Beef are packing up the motorcycle and sidecar for the trip to The Acres.
The entirely delightful Rene Engström has, indeed, resurrected Anders Loves Maria with remastered art. Compare, if you will, the first two installments against the original version. There's better pacing for the gag, better sense of space, better use of panel count and size to establish the time. There's also — crucially — a shift from steam forming a heart in the original final panel to Maria looking gobsmacked. There's an entirely different emotional payoff in this strip, a revision that could only come from a creator that is looking back with a better sense of who her characters are/were in hindsight, instead of just discovering them. I suspect the swing from idyllic love story to relationship trainwreck¹ and back again is going to have a different timbre (sometimes subtle, sometimes not) this time around. I'm looking forward to reading my favorite [SPOILER ALERT] ultimately heartbreaking story again for the first time.
Ian Jones-Quartey has been mentioned many times on this page; he is, perhaps, best known for his work on Steven Universe and other collaborations with Rebecca Sugar, but before that he did minis, animated and directed various shows (including The Venture Brothers and Adventure Time), did some kick-ass minicomics, and (oh yeah) a little thing called RPG World². He's been back-and-forth with Cartoon Network with his own projects (such as Secret Mountain Fort Awesome), and reported been working on a secret project.

That project has been revealed: CN has picked up his Lakewood Plaza Turbo not as a series, but as their first property outside of broadcast. Specifically, it's the centerpiece of a mobile game, OK K.O.! Lakewood Plaza Turbo, and the start of an ambitious new direction for the media empire. Now follow me on this: if you're a network that's taking a big gamble, making a move that has not been made before by any network, you are not going to make your first project (the one that determines whether or not this gamble goes forward) on somebody you don't have total confidence in.

And that confidence appears to have been well placed, as OKKO!LPT currently scoring ratings of 4.5/5.0 on both Apple's App Store and Google's Play Store. There's probably no good way to determine how many times it's been downloaded since launch yesterday, but given that the percentage of people that rate downloads is pretty low, having a few hundred (damn near universally positive) ratings in a day means it's doing pretty well.

This isn't a one-off; it's the start of a new business model for CN, and likely the start of a franchise for Jones-Quartey. Congrats to him, to his team, and to everybody that's having fun beating stuff up in OKKO!LPT. And if you aren't one of those people, let me point out that it's free, so there's nothing but download time keeping you from playing. You're welcome.

In case you missed it, Fleen Senior French Correspondent Pierre Lebeaupin continued his How to curse in French lessons in yesterday's comments. Don't say we never taught you anything worthwhile.
---
Spam of the day:
Your website has to be the elcoertnic Swiss army knife for this topic.
I'm putting that on my next round of business cards.
_______________
¹ Go back through the first run of ALM writeups on this page and you'll see I spent plenty of time sniffly over those two crazy kids, and plenty of time wanting to boot one or both of them in the skull for being so stupid and cruel. Usually Anders, though — I suspect this time around the motivations for his behavior will be a little more emotionally deep and little less just him being a dick.
² Reminder that you do not ask Jones-Quartey when RPG World is getting finished. Every time he's asked, he pushes the return date back another month (current estimate: February 2038).