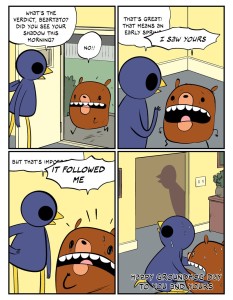 But first, I would be remiss if I didn't point out Fleen Senior French Correspondent Pierre Lebeaupin in yesterday's comments, not so much for his Angoulême take (which is, as usual, cogent and worth your while) as for his excellent lesson in how to curse in French. I suspect that by the end of calendar year 2016, we'll be able to drop some really creative vulgarity in the most beautiful of languages.
Looking back in history, then:
One day in 2012, Shaenon Garrity (Funk Queen of the Great Bay Area and Tiki Mistress Extraordinaire) embarked upon one of the greatest projects in the history of webomics: an epsiode-by-episode recapping of The X-Files in comic form. Skinner's mighty fist! Bees! Mites! Autoerotic asphyixiation! Monster of the Week had it all. Then, after season 4 (which meant we got to see the single best hour of '90s, Jose Chung's 'From Outer Space' in season 3), concerns like giving birth to an alive human child took precedence and the recaps sadly went on hiatus.

She's held out the possibility of return, contingent on you people giving more to her Patreon, but unless that happens, the season 4 summary of June 2014 will be where we leave Mulder and Scully and sexy shirtless Skinner.

Until today.

With the return of The X-Files, Garrity has felt the siren song of unresolved sexual tension, aliens, and exactly what Scully's been up to (wine and binging Parks & Rec), and has made with the recaps for Season X. Well, recap, singular, so far. She'll get to the others, I mean she's still got that kid to look out for¹.

A little further back — a little after this here blog was getting off the ground, in the February that we first met Envelópe Martinez², a small upstart publisher called :01 Books was just getting started. 157 books later, :01 is now 10, and they're marking the anniversary year with Happenings. Watch for authors to be on the road, interviews in public places, and every time National Ambassador for Young People's Literature Gene Luen Yang makes an appearance, keep in mind that he's been :01 since the start.

You'll find people posing with their favorite :01 Books selections on the Twitter machine under #10yearsof01, and you'll find we at Fleen talking about :01's many offerings throughout the year. Which, uh we would have done anyway. Happy tenth, :01, and here's to many more!

And further back still. Yesterday marked 25 years to the day that I met my wife; today marks 25 years since the day that involved overlong and not necessarily great movies, my introduction to collegiate hockey, an unplanned side-trip (or kidnapping, in certain senses of the word) to the sovereign nation of Canada, and hassles with US Customs on the way back. With that as arguably our first date, it's no surprise that I haven't been able to match up with any others since.

It is solely by her infinite forbearance and patience that I have the time to engage in this weird, obsessive hobby and pseudojournalistic hackery. If you ever see her about, thank her if you find what I do worth your time. And if you don't, thank her anyway, because she's the best human being.
---
Spam of the day:
Breaking Story: Trump has a pill for America – you have to read this..
Let me guess — contact a doctor if your election rallies last more than four hours?
______________
¹ Confidential to FQ in the BA: after taking your child for smallpox and other vaccines, be sure to remove the alien tracking device!
² Is there an interest in a Ten Years Ago At The Great Outdoor Fight runner here at Fleen? For example, we are now at ten years, one week, and one day since we first heard tell of Ramses Luther and the GOF, ten years and six days since we saw a grainy photo of The Man With The Blood On His Hands, and we are but one day from the tenth anniversary of sass in the main and the dire fates of Carl Veldt Grimps and Fancy Mark Clancy.
I think I just answered my own question.