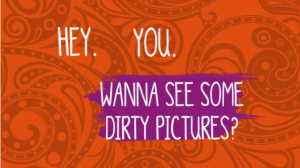 So I went to bed early and wasn't awake to watch Iron Circus Comics — aka Spike, aka The Woman Who Is Going To Own Comics Publishing, aka Maybe If You Apologize For All Those Years You Told Her She Was Never Going To Succeed She'll Have You Killed Mercifully — launch its latest Kickstarter. Kickstarters, actually, as two pieces of pure, uncut smut went up together, and you can back one, the other, or (and stay with me here because this is a a little out there) both of them at the same time.
So, uh, maybe assume all the links in this post are probably not things you want to click on if your boss can see.
First up, Yes, Roya, a book-length graphic novel of quality erotica, written by Spike herself and illustrated by Ghost Green, with Kinomatika on the cover. It's the early 1960s, there's cartoonists involved, and sexy times as a young upstart finds that life behind closed doors in the Camelot era was decidedly kinkier than your parents and grandparents let on.
Secondly, My Monster Boyfriend, continuing the Iron Circus tradition of ladycentric erotica anthologies, this one is exactly what it says on the cover: there are monsters, and they are various people's boyfriends, and there may just be hot, hot monster action going on. Lots of creators on this one, and Spike hasn't released the full contributor list yet, but you'll find names like EK Weaver, Jess Fink, Gail freakin' Simone, and Trudy Cooper.
And since this is a Spike Kickstarter, a couple things we knew were going to happen did in fact happen:
The goal was reached ridiculously quickly after launch. Keep in mind it was 9:00pm on the east coast when the campaign went up and promptly started raising US$1000/min before tapering off to US$10K in 15 minutes, US$20K in the first hour, and the entire US$40K goal in less than eight hours. Remember, this was overnight, and word doesn't spread so quickly when your audience are away from keyboards.
There's gonna be bonuses. As a result of we at Fleen bungling a description of Iron Circus's bonus structure a little while back , Spike reached out to us and let us know that these projects would use a different pay structure than previous project¹, one that will scale with the number of pages as well as the overfunding. For My Monster Boyfriend and Yes, Roya, pay starts at US$75/page, with an additional US$5/page for US$10,000 over goal.

One may note that (as of this writing), pay rates are already up to US$80/page. Assuming this one goes follows the same funding patterns as prior ICC smut offerings, I'd expect funding above US$150K (NB: not a formal prediction; we're still 8 – 12 hours away from being able to use the FFFmk2), meaning page rates of US$130 or more.
Oh, yeah, and the first stretch goal — a reprint of Smut Peddler 2012 — was met by the time Spike woke up this morning. There will be more. Oh, and did I mention that there are previews, more than 20 pages worth, over on the Kickstarter page? Because there are; no links, I'm gonna make you go read the damn thing and find 'em yourself … and before you complain, I just told you about free porn so hush.
The Smut Peddler Double Header runs until Wednesday, 24 February.
---
Spam of the day:
why havn't you claimed this Walmart gift yet?
Because Walmart is a rapacious, evil corporation run by the vampiric scions of the Walton family with a bloodthirstiness that would make Vlad Tepes say Hey, maybe just chill a little, and I would rather deal with the bastard child of Verizon and Comcast for the rest of my natural life than set foot in a Walmart. The only worthwhile thing Walmart has even done is be so awful that walmart.horse provoked not a single twinge of sympathy in anybody anywhere.
______________
¹ Briefly, contributors got US$50/page, and a US$50 bonus for every US$5000 over goal.