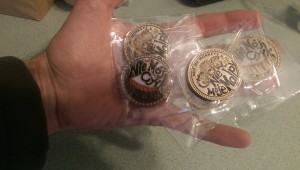 I would have been willing to spend two or even three of my Not My Circus, Not My Monkeys coins but it turns out blizzards (70.3 cm of snow!) don't work that way. My spine and I are going back to bed as soon as we're done here.
---
Spam of the day:
So, you guys know that I've been in an ongoing dispute with Verizon, which is why it's especially amusing that they sent this:
Jonas is coming, are you ready?
The most common storm-related occurance is a power outage which can affect your Fios® by Verizon services.
Consider:
I don't have FIOS. They know this, despite the fact that they've been trying to upsell me FIOS in lieu of fixing my DSL, and oh yeah — FIOS isn't available in my area.
They sent this oh-so-helpful prep email approximately 03:11 on Sunday, after the snow had been stopped for some six hours.
They sent it again twelve hours later.
So in addition to an ongoing dispute, Verizon apparently believes I have the ability to go back in time by 36 – 48 hours.