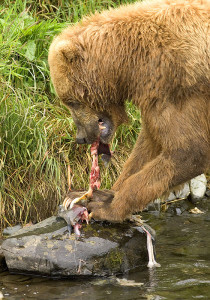 It's a good day for those of you that travel to the northerly climes for comics conventions featuring indy-type creators, and are interested in discovering exactly who the guests of such cons would be. Let's take 'em from North to South, earlier to later, and smaller to larger.
We mentioned that there was going to be a small convention in Juneau, Alaska, under the aegis of Pat Race and Alaska Robotics about two weeks back. Race has now put up a dedicated site for what is now dubbed Alaska Robotics Mini-Con and the associated camping trip, to be held 22-26 April.

Confirmed guests appear to have been heavily pulled from those that Race has brought to Juneau over the past couple of years for spotlight appearances; the fact that they're willing to make the long trek to Juneau speaks well towards how AKR treats its guests. So if you're in the land of whales 'n' bears in April you'll be likely to meet Kate Beaton¹, Vera Brosgol, Tony Cliff, Amy Kibuishi, Kazu Kibuishi, Dylan Meconis, Ryan North, and Raina Telgemier.

Joining them will be musicians Seth Boyer, Marian Call, and Molly Lewis, as well as Georgina Hayns and Jeremy Spake from Studio Laika (they're responsible for the puppet and armature manufacture behind such films as Coraline, ParaNorman, and The Boxtrolls), and superlawyer to the artistic world Katie Lane. After the convention on Saturday, the artists head off camping for a creative retreat, with a limited number of spots for [aspiring and accomplished] artists who want to attend.

Best of all, AKRMCon has the best first-year show harassment policy I've ever seen:

Many conventions have harassment policies and we feel like it's important to approach this event in the spirit of inclusion. We love the many varied groups and fandoms that congregate at comic conventions we've attended and we want everyone to feel safe and welcome at our convention. If anyone makes you feel unsafe or goes out of their way to make you feel uncomfortable, let us know. We'll feed them to the bears. [emphasis mine]

I call upon every convention in the world to adopt this sanction for jerk behavior; f you don't bears, put the offenders in a box and ship 'em to Juneau with a note asking Pat Race to help and I'm sure he'll do you a solid.

Some three weeks later, many of those that were at AKRMCon will be making their way southeast about four time zones to Toronto for TCAF, who have just announced their first eight featured guests. Kate Beaton will be there, of course, along with Duncan Fegredo, Lisa Hanawalt, MariNaomi, Sean Phillips, Michel Rabagliati, Chip Zdarsky, Japanese vulva sculptor Rokudenashiko (really! look her up, she's super cool!).

The exhibitor list is too extensive to copy here, but it'll include Lucy Bellwood, Tony Breed, the Boston Comics Roundtable, Anthony Clark, Eric Colossal, Tony Cliff, Rachel Dukes, Mike Dawson, Sophie Goldstein, John Green, KC Green, Megan Rose Gedris, Meredith Gran, Nick Gurewitch, Der-shing Helmer, Mike Holmes, Kori Michele Handwerker, Alex Heberling

[inhale]

Ananth Hirsh & Yuko Ota, Abby Howard, Dustin Harbin, Faith Erin Hicks, Kel McDonald, Erika Moen, Angela Melick, Sfé R Monster, Tom McHenry, Hope Nicholson, Ryan North, Em Partridge, Ryan Pequin, Carey Pietsch, MK Reed, Sarah Winifred Searle, Kean Soo, Tessa Stone, Ben Towle, and EK Weaver. Oh, and also publishers Drawn + Quarterly, Iron Circus Comics, Koyama Press, and Retrofit Comics.

Also professional terrible person Karla Pacheco, who should not — repeat, NOT — be allowed in the same space as Tony Breed and/or Chip Zdarsky if we (as a people) wish to avoid unpleasantness. Like, international incident unpleasantness.

As in past years, TCAF, will take place at the Toronto Reference Library, 789 Yonge Street, on 14 (9:00am – 5:00pm) and 15 (11:00am – 5:00pm) May, and it free and open to the public.
---
Spam of the day:
Your life is at stake: I'm Offering you My special ritual to remove the negative energetic vibration in your home — Adrian Medium – Mentalist – Master Hypnotist – Prophetic Expert
Can you tell what I'm thinking at you right now, Adrian? Here's a hint: it starts g-o-a-t-s-e.
________________
¹ Beaton's travel distance from Nova Scotia to Juneau will be approximately 5000 km, greater than the distance to London, Madrid, Havana, or Mexico City.